Emsisoft Newsletter
April 7, 2011. The latest exciting Emsisoft news.
Emsisoft Online Armor Firewall 5.0 available!

A Firewall keeps a constant eye on the data traffic of your computer and only allows Internet and local network connections for authorized programs and processes. In recent years, Emsisoft Online Armor has made a name for itself as a comprehensive security solution that is also easy to understand and operate for those who are not computer experts.
This Firewall not only protects the user against attacks from the Internet but also allows permanent monitoring of suspicious system-internal processes. Online Armor is therefore also a full-featured HIPS (Host Intrusion Protection System), in other words a type of Firewall for internal operating system processes.
Emsisoft Online Armor is available in three versions:
Online Armor Free

Can be used by home users completely free of charge. The program provides a strong Firewall and comprehensive Web protection. The Freeware version also detects Keyloggers and offers several protection routines to protect the Firewall itself from manipulation.

Online Armor Premium - US $40 in the first year, then at a lower cost for renewals

Additionally the Premium version includes access to product support, access to Advanced Mode features, File and Registry protection, DNS-Spoofing protection, automatic updates and the especially important Online-Banking mode that prevents undesirable manipulation of internet banking operations.

Online Armor ++ - US $60 in the first year, then at a lower cost for renewals

Also provides an award winning dual scan engine Anti-Virus / Anti-Malware Scanner and a Rootkit Scanner.

Emsisoft Online Armor 5.0: An overview of the new features
New user interface
Version 5.0 of the Firewall has a completely reworked user interface. This is based on the design of the other Emsisoft products. In addition to creating a unified product appearance for Emsisoft programs, the aim was also to greatly simplify the operating concept. The opportunity was also taken to improve the readability of the alert window messages displayed directly above the Taskbar System Tray when an alert is generated.

New feature: File & Registry Shield
Online Armor 5.0 now also protects selected files, folders and registry keys from being changed. A rule system based on trust-level settings exactly defines the programs that have full access, partial access or no access to the protected areas. This provides special protection to the user against ransomware attacks, where important documents are encrypted and ransom money is demanded for the encryption key.

Improved self-protection
Online Armor itself now offers improved self-protection on both x86 and x64 systems, giving you that additional peace of mind that your system is protected all round against manipulation from malware and hackers.

Alerts in the case of suspicious program paths
A new feature is the Guard module that checks and blocks suspicious file paths such as double file extensions, which are still very commonly used in email attachments (e.g. *.pdf.exe or *.doc.exe), Unicode paths (characters that appear similar) and supposed system files that are actually in the wrong location.

Over 400 improvements in various details
Emsisoft works very closely with the user community. As a result of direct customer feedback, over 400 improvements to various details have been made when compared to version 4.5.
Availability
Setup files with the update option are ready for download on our website. Using the built-in online update feature, all existing installations will automatically be updated during the next few days. As always Emsisoft offers free updates to the new version for all users with valid licenses.
Prices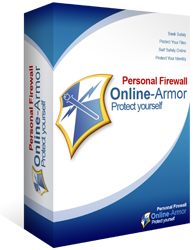 Online Armor Premium

1 PC - 1 Year: US $40.-
1 PC - 2 Years: US $70.-
3-Pack - 1 Year: US $73.-
Ordering information

Online Armor ++

1 PC - 1 Year: US $60.-
1 PC - 2 Years: US $105.-
3-Pack - 1 Year: USD $110.-
Ordering information

Our recommendation!
Emsisoft Anti-Malware + Online Armor Premium Bundle

1 PC - 1 Year: US $50.-
3-Pack - 1 Year: US $90.-
Ordering information

When the license expires, you can buy a renewal for 1 year (25% off), 2 years (30% off) or 3 years (35% off).
Questions?
4/7/2011 - Discuss this article in the forum


How would you rate the quality of this content?
Best In Test!
---