Emsisoft Newsletter
November 10, 2011. This newsletter is to inform you of the latest Emsisoft news.
First test reports attest Emsisoft Anti-Malware 6.0 top protection efficiency

Emsisoft Anti-Malware 6.0 is quite new, but there are already interesting reviews out there. Not only infamous Malware Research Group had a closer look at our latest security software, but also softpedia.com and a couple of security enthusiasts on YouTube. The overall result is consistently positive.
Since the beginning of 2011, Malware Research Group has been running a long-term test in which widely spread security programs are confronted with so-called zero-day attacks. Zero-day attacks are brand new and therefore especially dangerous malware. After handling 80 trojans and rootkits, Emsisoft Anti-Malware 6.0 is now showing the best detection rate out of 19 candidates in total and thus placing first in the ranking of antivirus and antimalware programs.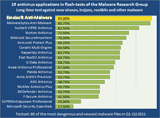 Also the well-known software portal Softpedia.com is full of positive words for Emsisoft Anti-Malware 6.0, here is what they write:
Installation is extremely swift, and you get to go through a simple pre-configuration wizard before accessing the interface. It showed impressive results as far as detection rate goes, and all verification was very fast. Once set up, you can let it do its job without further altering its configuration.
Last, but not least - YouTube, where live software tests are getting more and more popular. Most notable: three security enthusiasts who checked how Emsisoft Anti-Malware reacts to malicious software and dangerous websites independently from each other. The result is again stunning as our security tool mastered all challenges and finally received recommendations from all of the three testers.
See Emsisoft Anti-Malware 6.0 fighting newest threats live on YouTube:
Short-term offer:
get Ad Muncher for free with your Anti-Malware order!
You are annoyed by pop-ps and other kinds of annoying advertisements while surfing on the Internet? And you are thinking about buying Emsisoft Anti-Malware 6.0? Perfect! For, while supplies last, we will add a free Ad Muncher full version worth US $30 to your order.
In our opinion, Ad Muncher is actually the best ad blocker and works with every browser directly out of the box. Speed up page loading and save on bandwidth thanks to removal of ads and blocking pop-up windows.
Combined protection against malware and online advertisements:


Limited quantity!
11/10/2011 - Discuss this article in the forum


How would you rate the quality of this content?
Best In Test!
---