Halloween Special: Play a trick on malware with Emsisoft Security Mega Pack!
Unlike Halloween tricks, malware unfortunately does not threaten your PC only once a year, but rather the whole year round. This is why we are offering Emsisoft Security Mega Pack as of today at a special price. It is a collection of vital tools that not only allows you to spend your time online more securely, but also much more comfortably.
Emsisoft Security Mega Pack is our carefree package for everyone who relies on the Internet either for professional or private use. It consists of the best programs of its kind and should be an essential part of each and every PC:
Protection against viruses: Emsisoft Anti-Malware (RRP $39.95)
Our multi-award winning malware hunter with surf protection and fast dual-engine scanner that detects more than 10 million malware programs. Its modern behavior blocker prevents new threats from residing in your PC.


Firewall: Emsisoft Online Armor (RRP $39.95)
Gives you full control of all incoming and outgoing network connections. The Online Banking Mode allows you to make secure transactions, and password spies will have no chance thanks to the Anti-Keylogger feature.


Ad blocker: Ad Muncher Premium (RRP $29.95)
Works with all current browsers and is ready for use immediately after installation. Block annoying online ads and save on bandwidth!


Backup: O&O DiskImage Professional (RRP $29.90)
It is not only malware that can destroy your data, even broken PC hardware can do the trick. So backup important data on your hard disk regularly and conveniently!


VPN: CyberGhost Classic (RRP $69.99)
Protect your privacy and surf anonymously. CyberGhost prevents website providers from logging your activities and tracking you down. It also allows you to access blocked websites.
How good are Linux rescue CDs?
Bootable Linux CDs including virus scanner promise to detect malware in a particularly reliable manner. This is because the malware can no longer hide from Windows as another OS is being used. In their most recent blog entry, Emsisoft's analysis team will show you that there are two sides to this coin and that a rescue CD may also have its disadvantages.
Directly to the article:

Have a nice (malware-free) day!

Christian Mairoll - Emsisoft CEO
10/30/2012 - Discuss this article in the forum


How would you rate the quality of this content?
Best In Test!
AWESOME score in September 2013!
100% in AV-Comparatives "Real-World" Protection Test!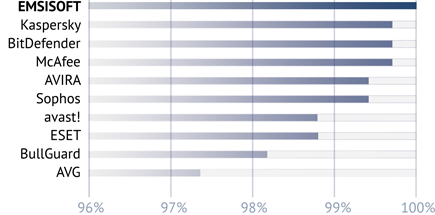 More independent reviews of anti-malware software
---