Emsisoft makes online banking secure
An extensive comparative test by the independent anti-virus testing agency MRG Effitas proves: Emsisoft Anti-Malware offers the best online banking protection possible! Amazingly, the majority of programs tested failed to pass at least one test phase. Among them were countless big players in the sector.
It is essential that security software protects your browser optimally against malware when engaging in online transactions. If not, your account may be emptied in no time, and you will receive a nasty surprise on your next statement. So-called "man in the middle" attacks are as good as invisible to the victim and, if this isn't already bad enough, most security programs offer inadequate protection or even no protection at all.
This alarming result has come to light following an extensive test. 32 security tools had to prove their efficiency during online banking and whilst under simulated attack from widely spread financial malware such as Zeus or SpyEye.
This test included several methods of malware distribution such as infections via Internet Explorer or by using a USB stick. During several test phases the subjects had to prevent banking data from being recorded and sent to a server.
| | |
| --- | --- |
| | During all phases of testing, Emsisoft Anti-Malware immediately detected the malware on execution and blocked it reliably. This is the best result possible! |
| | Only 4 out of 32 programs tested managed to pass all test phases without any user interaction. Make sure you have sufficient protection when banking online. |
Emsisoft celebrates 9th jubilee!
On December 10th, 2003, we published the first version of today's Emsisoft Anti-Malware. Ever since, we have been working hard to keep your PC and data 100% free of malware. While countless security programs that were launched around this time have ceased to exist, our software has been defying the industry's big players for the past nine years and is now better than ever.
We would like to celebrate our anniversary with you - save more than 40% with this offer:
Get 3 licenses at the price of 1!
3 PCs for the price of 1!

Only $39.95
(instead of 69.95)

3 PCs for the price of 1!

Only $39.95
(instead of 69.95)

3 PCs for the price of 1!

Emsisoft Anti-Malware + Emsisoft Online Armor

Only $49.95
(instead of 89.95)
Order now, offer valid this week only!

Have a nice (malware-free) day!

Christian Mairoll - Emsisoft CEO
12/3/2012 - Discuss this article in the forum


How would you rate the quality of this content?
Best In Test!
AWESOME score in September 2013!
100% in AV-Comparatives "Real-World" Protection Test!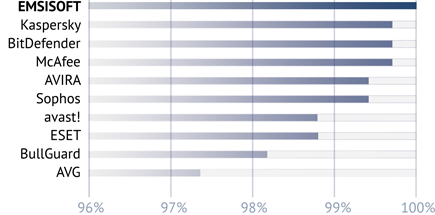 More independent reviews of anti-malware software
---