Thank you for downloading Emsisoft Anti-Malware
Thank you for downloading Emsisoft Anti-Malware
If the download doesn't start immediately, please click here.
Receive 10 invaluable security tips - free of charge!
We believe that knowledge is the key to security. That's why we'd like to offer you a invaluable series of the 10 most important security tips, delivered to your inbox for free, one every four days. You can, of course, unsubscribe from this email series at any time with a simple click.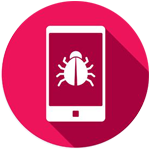 Alerts & Outbreaks, Security Knowledge [Oct, 5, 2015]
It only takes one text to put hundreds of millions of phones at risk. Learn about the Stagefright bug and how it puts your digital life on the line.
Alerts & Outbreaks [Aug, 5, 2015]
Are you waiting for your Windows 10 update? If so, you're a target for ransomware!
Alerts & Outbreaks [Jul, 21, 2015]
Just a few hours back Microsoft released their latest Windows Security Update. There was a super-critical bug discovered in the Hacking Team files.