Home user products
Buy securely at the Emsisoft Online Store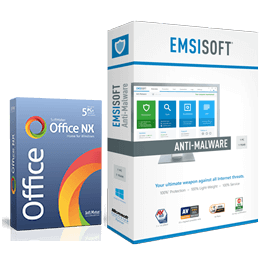 October Special
FREE Full version of SoftMaker Office NX Home (worth $40) with each order

Note for Emsisoft Internet Security users
As
announced earlier
, Emsisoft Internet Security will be merged with Emsisoft Anti-Malware by Oct 1st, 2017. Therefore, it's no longer possible to order new licenses for it.
Please uninstall Emsisoft Internet Security and
install Emsisoft Anti-Malware now
. You can enjoy another 30 days free trial or buy Emsisoft Anti-Malware right away.
Most popular!

Emsisoft Anti-Malware

Best protection for Windows computers

Antivirus and Anti-Malware
Surf- & Banking-Protection
Behavior Blocker
Anti-Ransomware

Emsisoft Mobile Security

Protection for Android devices

Antivirus
Theft Protection
Auto-renewal
Next
You can review and change your cart on the next page, no worries.

Next
You can review and change your cart on the next page, no worries.







Secure encrypted payment processing and order fulfillment is handled by our trusted e-commerce partner cleverbridge AG.
You might ask...
What do I receive after I submit my order?

You immediately get access to the full version of the software for the duration of your license period. Your license period starts at the day of payment processing.




Technology Guarantee: When a new major version of an Emsisoft product you are actively subscribed to is released, you will get the update for free. Most of our competitors don't offer this guarantee.

Is the online ordering process safe?

Yes. The order processing is managed by our trusted partner Cleverbridge AG, a respected worldwide leader in e-commerce in the software industry. The ordering process uses secure-HTTP (SSL) to protect your payment details. What you type in is encrypted. Emsisoft does not store any credit card data at all. Cleverbridge contact details

Is there a money back guarantee?

Yes. If you are unhappy with your purchase for any reason (we strongly doubt that you will be), just let us know and we will cancel your order within 30 days.

What does Auto-renewal mean?

Auto-renewal ensures you don't end up defenseless when your license period runs out. When your license is about to expire, our online payment provider verifies that your payment details are still valid and automatically renews your subscription when the license ends. Please note that you can cancel auto-renewal at any time with just one click via the order confirmation email or directly on the purchase confirmation page after completing your order. We're certainly not interested in charging any money if you don't want to use our products and always offer a full refund for any unwanted transactions within 30 days.
USB stick that contains tools to scan and clean infected third party computers
Simply plug in and run the portable Emsisoft Emergency Kit Scanner to check a computer for Malware. No software installation and no online connection required for cleaning, which makes it the perfect utility when helping friends in emergency situations. The USB stick can be used for any other purpose to save or backup data too.
Best protection for your Android mobile device
Emsisoft Mobile Security is a next-gen security solution for Android devices focused on little (to zero) system or battery impact while providing access to a number of security functions in order to help you have a safer and more informed Android experience. Use the Anti-Theft feature to lock or wipe the device remotely when stolen or lost.
Award winning protection for your Windows computer
Emsisoft Anti-Malware is our most awarded protection suite, featuring a dual-engine scanner, a surf protection, a banking protection and a behavior blocker against brand new online threats.
Never miss license expiry
Thanks to auto-renewal your licenses are automatically renewed for another year when they are about to expire. You can cancel auto-renewal at any time, even if a payment was already processed. We'll immediately refund the money on your request.
Get Softmaker Office NX Home for FREE!
SoftMaker Office NX Home for Windows is the blazing-fast alternative to Microsoft Office. Plus, it's easier to use and highly reliable. This office suite is seamlessly compatible with Microsoft Office 97 to 2016, thereby letting users exchange files without any headaches.