Two scanners to clean infections
Why two? Although our own scanner already detects almost all online dangers, we decided to partner with a second major antivirus company to combine our technologies for superior detection. Check out the latest comparatives. Our multiple test victories confirm that using two scan engines is much safer than using just one.
Isn't that a waste of resources? Definitely not! We've combined the scanners at the lowest level to ensure optimum performance. Our dual-scanner is actually much faster and lighter than most single-engine products. We also avoid loading any signatures (fingerprints) of engine A that are not needed because Engine B already detects them.
Stay safe with THREE PROTECTION LAYERS

Surf Protection: If you unintentionally try to access a website that spreads trojans or spyware, Emsisoft Anti-Malware will prevent you from doing so. The built-in list of known dangerous and fraudulent websites is automatically updated every hour.

File Guard: This crucial layer of protection checks all files that are downloaded or run against more than 10 million signatures of known malicious software. The Emsisoft Anti-Malware File Guard is intelligent and self-optimizes continually, so you won't feel the impact of dozens of files being scanned in the background every second.

Behavior Blocker: To catch zero-day threats that aren't yet included in the signature database, Emsisoft Anti-Malware continually monitors the behavior of all active programs and raises an alert as soon as something suspicious occurs. Combined with the live cloud-verification of the Emsisoft Anti-Malware Network it is our ultimate weapon against specialized and sophisticated malware attacks that others can't protect you from. Read how it works.
Automatic malware notification
Emsisoft Anti-Malware for Server protects your server immediately after booting, even when there is no active user logged on. As an administrator you are also able to use the handy email notifications, which inform you automatically when push comes to shove. See the File Guard options for details.


100% Wildlist
Detection &
0 false alerts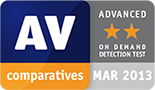 100% blocked in AV-Comparatives
Real-World Protection Test
(March 2013)


Extras for pros
Emsisoft HiJackFree
Emsisoft HiJackFree is a detailed system analysis tool designed to help advanced users to detect and remove all types of HiJackers, Malware, Spyware, Adware, Trojans and Worms.
All about Emsisoft HiJackFree
Emsisoft Commandline Scanner
Perfect for automatically scanning certain files. The included Commandline Scanner offers all functions of the Emsisoft Anti-Malware scanner and both the top scan engines, but without the graphical user interface.
All about Emsisoft Commandline Scanner
We're proud of these test results!
Most antivirus comparatives simply scan a very large number of malware files and count how many remain after allowing the program to cleanup the infections. While such testing gives a solid overview of static detection capabilities, it doesn't really reveal much about a product's real-time protection capabilities in real world scenarios. MRG-Effitas and AV-Comparatives are two independent antivirus testing organizations who put much time and effort in executing the most dangerous real-world malware samples to see which products can effectively protect against them.
Check out these amazing results:
Emsisoft Anti-Malware achieves highest honor in AV-Comparatives "Real-World" Protection Test (March 2013)!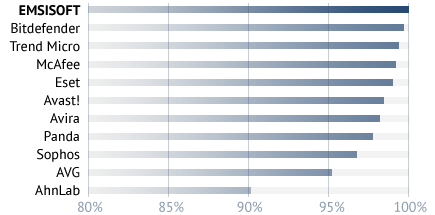 Also see our Anti-Malware-Reviews Blog where we collect all tests that our products have participated in.
Frequent questions
Can it replace my current antivirus software?
Yes. Emsisoft Anti-Malware is a complete antivirus solution that provides protection against all manner of threats that are lurking on the internet. Two full virus scanning engines are used to ensure optimal detection and cleaning, while the three-layered real-time protection prevents new infections from entering your Server. Read how it works.
Why is it called "Anti-Malware" and not "Antivirus"?
Our analysis lab has determined that classic viruses only make up less than 0.5% of total threats (in 2012). Referring to our product as an "Antivirus" would therefore be wrong by definition. We're perfectionists so we have elected to use the broader term "Malware" when naming our product. "Malware" includes all types of threats, such as viruses (0.5%), rogue security software (0.5%), rootkits (1.0%), adware (2.7%), possible malicious applications (4.1%), worms (4.6%), financial malware & password stealers (5.3%), online gaming password stealers (6.9%), backdoors (13.3%) and trojans (61.3%). Please note that not all "Anti-Malware" products on the market include the same functionality and protection level.
If your current license hasn't expired yet: Open Emsisoft Anti-Malware and click the "Buy renewal" link in the bottom right corner of the Security Status screen. Follow the online instructions to complete the order. During the next online update, the license information within the software will be automatically updated.
If your license has already expired: Please enter your current license key on our renewal order page and follow the instructions.
Yes - assuming that you're using Windows Server 2003, 2008 or 2012 - with the latest service pack installed. From Windows Server 2008 onwards all features are fully functional on x64 systems too. While running, Emsisoft Anti-Malware for Server uses about 200 MB of your RAM.
It's a popular myth that you shouldn't run two antivirus programs at the same time. We have spent considerable time building Emsisoft Anti-Malware in a way that makes it compatible with almost all other antivirus programs!
Test Emsisoft Anti-Malware for Server, risk free
Download a fully functional 30 day trial version and become convinced of the benefits yourself, or place an order immediately and take advantage of our 30 day money back guarantee. No matter what you decide, you can't go wrong with Emsisoft Anti-Malware for Server. THERE'S NO RISK INVOLVED!