Home user products
Buy securely at the Emsisoft Online Store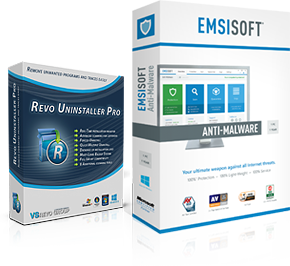 Limited Offer
Buy Emsisoft Anti-Malware and get Revo Uninstaller Pro for FREE!

Note for Emsisoft Internet Security users
As
announced earlier
, Emsisoft Internet Security will be merged with Emsisoft Anti-Malware by Oct 1st, 2017. Therefore, it's no longer possible to order new licenses for it.
Please uninstall Emsisoft Internet Security and
install Emsisoft Anti-Malware now
. You can enjoy another 30 days free trial or buy Emsisoft Anti-Malware right away.
Most popular!

Emsisoft Anti-Malware

Best protection for Windows computers

Antivirus and Anti-Malware
Surf- & Banking-Protection
Behavior Blocker
Anti-Ransomware

Emsisoft Mobile Security

Protection for Android devices

Antivirus
Theft Protection
Next
You can review and change your cart on the next page, no worries.

Next
You can review and change your cart on the next page, no worries.







Secure encrypted payment processing and order fulfillment is handled by our trusted e-commerce partner cleverbridge AG.
You might ask...
Exactly what do I receive when purchasing?

You receive the full version of the software for the duration of your selected license period. Full support and all software and signature updates within the license period are included. Technology guarantee: Unlike most competitor products, when a new major version of an Emsisoft product is released, you will get it for free.

Is the online ordering process safe?

Yes. The order processing is managed by our trusted partner Cleverbridge AG, a respected worldwide leader in e-commerce in the software industry. The ordering process uses secure-HTTP (SSL) to protect your payment details. What you type in is encrypted. Emsisoft does not store any credit card data at all. Cleverbridge contact details

Are consecutive years cheaper?

Yes. After the initial year you will receive a 25% discount on renewals + 5% more for every additional year you remain customer of Emsisoft. Up to 60% off the initial price! Please use the renewal button from within the software or enter your license key on the renewal page.

Are there any educational discounts available?

Yes. We support education wherever we can. Therefore we're offering special discount prices for students, teachers, schools, universities and charities. Please send an authentication that confirms that you are eligible for the discount to

[email protected]

, then you will receive an access code, which allows you to order educational licenses with the discount.

Is there a money back guarantee?

Yes. If you are unhappy with your purchase for any reason (we strongly doubt that you will be), just let us know and we will cancel your order within 30 days.
USB stick that contains tools to scan and clean infected third party computers
Simply plug in and run the portable Emsisoft Emergency Kit Scanner to check a computer for Malware. No software installation and no online connection required for cleaning, which makes it the perfect utility when helping friends in emergency situations. The USB stick can be used for any other purpose to save or backup data too.
Best protection for your Android mobile device
Emsisoft Mobile Security is a next-gen security solution for Android devices focused on little (to zero) system or battery impact while providing access to a number of security functions in order to help you have a safer and more informed Android experience. Use the Anti-Theft feature to lock or wipe the device remotely when stolen or lost.
Award winning protection for your Windows computer
Emsisoft Anti-Malware is our most awarded protection suite, featuring a dual-engine scanner, a surf protection, a banking protection and a behavior blocker against brand new online threats.
Get Revo Uninstaller Pro 3 for FREE!
Revo Uninstaller Pro 3 helps you to securely and comprehensively remove software and unwanted programs installed on your computer with ease, using advanced algorithms to find even the smallest traces left on your system.