Version 10 beta: Emsisoft Anti-Malware and Emsisoft Internet Security ready to test!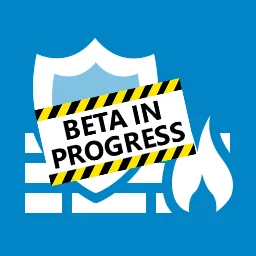 We have been working really hard to further improve our products, and are very excited to announce that the beta versions of Emsisoft Anti-Malware and Emsisoft Internet Security 10 are now available for beta testing. A series of awesome improvements is on the way:
Scan speed
The most significant improvement of Emsisoft Anti-Malware and Emsisoft Internet Security 10 is their scanning speed. To give an example: scan time of a typical malware scan on a reasonable fast computer went down from 5 minutes and 42 seconds to only 57 seconds! That's a time saving of 83% compared to the previous version and only reflects the current beta status. There are chances that the final version will be even faster, as we still have some more ideas for tuning knobs to turn.
We achieved that speed improvement mostly by redesigning the way our scan engine reads files from a disk. Additionally we have overhauled the smart scan defaults to be even more accurate in scanning only files and folders that are effectively used by malware. In short: the new "Malware Scan" detects more and takes less time to do so.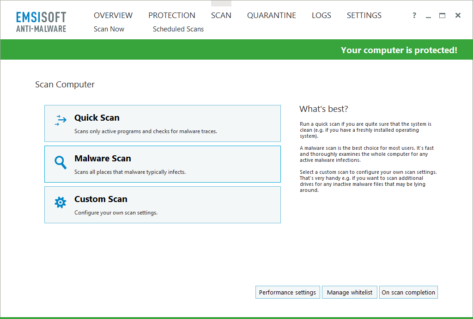 Scheduled scans
Version 10 now allows you to easily configure multiple scheduled scans. Scan tasks have received a vast amount of new settings to cover all thinkable conditions. For example, say you want to scan your whole computer each Friday after work at 5 PM. In case the PC has already been shut down, you want to repeat the missed scan on Monday morning. Additionally you may want to run a quick scan after each reboot, but be sure that the latest online updates are downloaded right before the scan. All of that can be flexibly configured now.
The anti-malware testing agency AV-comparatives recently confirmed that Emsisoft is quite possible the most privacy conscious security software vendor around. While most antivirus can easily track every single website you're visiting, Emsisoft ensures that no personal data leaves your personal computer. Version 10 goes even one step further and allows you to freely configure all settings which may have any impact on your privacy. For some useful features like the online lookup of programs during alerts to avoid false alerts it is required to submit a minimum of information in order to benefit from them, but you can always turn them off if you prefer.

Behavior Blocker
The behavior blocker panel has received a new process list where you can see which programs are currently monitored for malicious behavior. Additionally, you can get further information about programs that are running on your computer, including an online verification that checks the Emsisoft Anti-Malware Network database with its 150+ million records of good and bad software.

How to participate in the beta test?
Please note that the described improvements just represent the current beta development state, which means the software is not yet well-tested and may still have some bugs. If you feel confident that you can handle crash situations properly, you can have a look at the beta. Go to "Settings" – "Update" and turn on the "Beta updates" option. Then run an online update to switch to the new software components.
Warning! Use beta updates on your own risk. Beta software may crash your computer. 
When will the final version be available?
As always, we at Emsisoft don't set release schedules far in advance. We will release the final version as soon as we feel confident that there are no more serious bugs in the software. It's probably a matter of a few weeks though.
Have a nice (malware-free) day!