New in 2018.7: Improved File Guard Performance
August 1, 2018

3 min read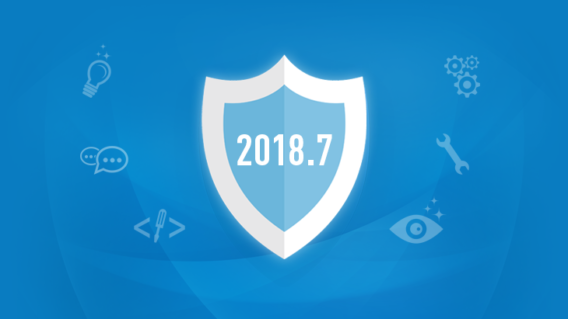 With this update, you will notice that the default scan level of Emsisoft Anti-Malware's File Guard will change from the balanced middle option to the fastest option.
In previous versions, we had the following scan levels:
Fast
Balanced (factory default)
Thorough
With version 2018.7 this changes to:
Default (new factory default)
Thorough
Paranoid
We made this change for a good reason, which I would like to elaborate. Behind these three options lie a different technology:
OnExecution scans: The first option basically only scans programs when they are getting started. While that keeps your computer free from active infections, downloaded inactive malware files may not be immediately detected.
OnModification scans: In addition, this option also scans any files that are newly created, such as downloads, but also any files that are modified by any program. In the past, that was the best method to catch all sorts of downloaded malware and script-/macro-based threats.
OnRead scans: In addition, this option also scans any files as they are being read by any program. On a typical PC, there are usually thousands of files being read in the background every minute, so this option naturally slows down the overall performance of your computer quite dramatically. We don't recommend making use of it, but keep it available for those who want to be absolutely sure everything gets immediately detected without delays.
What we changed in 2018.7 is that we enhanced the OnExecution scan in a way that allows third-party programs and the Windows operating system to access our scanner technology too. Microsoft created specific interfaces called IOfficeAntivirus and AMSI that are used by most modern browsers, script interpreters, and Office programs to make sure the documents that are downloaded and opened do not contain any malware.
With that being the new standard, we don't see the need to scan all files during their creation or modification anymore but combine very fast performing OnExecution scans with those new extra scans coming from third-party applications.
You can still switch back to the middle option, but we recommend the first "Default" option for best detection and performance.
Experience the speed increase by yourself and don't hesitate to provide us with feedback in the comments below!
All 2018.7 improvements in a nutshell
Improved File Guard performance, changed default scan level.
Redesigned Protection menu panels.
Minor user interface changes.
Several minor tweaks and fixes.
Several minor tweaks and fixes.
How to obtain the new version
As always, so long as you have auto-updates enabled in the software, you will receive the latest version automatically during your regularly scheduled updates, which are hourly by default. New users, please download the full installer from our product pages.
Note to Enterprise users: If you have chosen to receive "Delayed" updates in the Update settings for your clients, they will receive the new software version no earlier than 30 days after the regular "Stable" availability. This gives you time to perform internal compatibility tests before a new version gets rolled out to your clients automatically.
Emsisoft Endpoint Protection: Award-Winning Security Made Simple
Experience effortless next-gen technology.
Start Free Trial
Have a great and well-protected day!