Emsisoft's 20th Anniversary Promotion Announcement
August 15, 2023

1 min read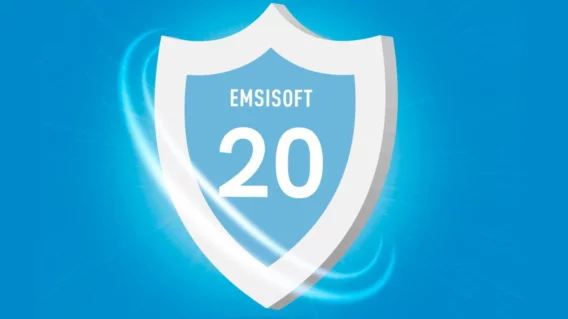 As we reflect on Emsisoft's 20 years in business, we are honored to extend our appreciation to our valued partners and customers with a special 20th anniversary promotion. Your continued support and trust in our services have been instrumental in our journey, and this significant milestone is a perfect opportunity to show our gratitude.
For an entire month, from August 15, 2023 to September 15, 2023, we are offering a 45% price reduction on 1-3 year licenses for Emsisoft Enterprise Security + EDR. With this offer, Emsisoft Enterprise Security becomes available at the same accessible price as Emsisoft Business Security. This offer is available to all of our partners and customers.
While Emsisoft Business Security provides robust protection for your business needs, our Enterprise Security edition goes a step further in enhancing security, scalability, and manageability. The Enterprise Edition comes equipped with all Business Security features, plus:
Full EDR functionality with cloud based behavior tracking and deep threat insights.
AI-assisted advanced threat hunting tools.
Third party SOC/SIEM integrations.
Active Directory integration with automatic discovery of new devices and users.
Extended support, and more!
By upgrading to Emsisoft Enterprise Security, businesses not only arm themselves with advanced protection tools but also optimize their security management. This ensures that when businesses expand, their cybersecurity measures scale with them.
Emsisoft Enterprise Security + EDR
Robust and Proven Endpoint Security Solution For Organizations of All Sizes.
Start free trial
The 20th-anniversary promotion is a golden opportunity to experience the future of enterprise security at a much lower rate!
To learn more about the promotion, please contact your account manager or send your query to [email protected].