Emsisoft Anti-Malware Receives A+ Grade in September 2023 VB100 Tests
September 25, 2023

2 min read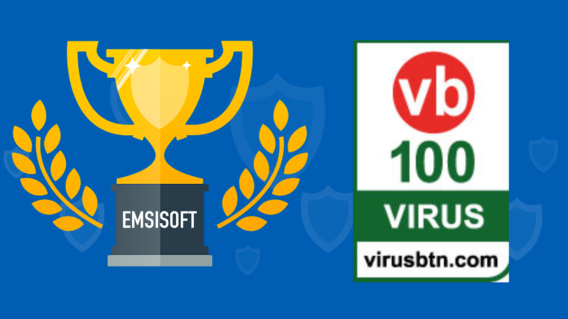 We are thrilled to share the results of the recent VB100 tests conducted by Virus Bulletin, the highly respected independent certification body with over two decades of expertise in benchmarking security solutions.
The Testing Environment
All tests were performed on either physical computers or virtual machines representative of standard business environments. Emsisoft Anti-Malware was evaluated on a clean installation of Microsoft Windows 10 Pro N, 64-bit, 10.0.19044, updated with the latest recommended Windows patches.
To simulate real-world conditions, Emsisoft Anti-Malware was subjected to a rigorous testing regimen involving thousands of malevolent samples, sourced by expert malware researchers and groups. Additionally, a control set of 100,000 benign, frequently updated samples from prevalent software downloads was used. Importantly, during these tests, none of the malicious or clean samples were executed.
VB100 Certification Criteria
To be awarded with VB100 certification, a security product must:
Detect a minimum of 75 percent of malicious samples.
Register no more than 0.05 percent false positives.
Furthermore, products are ranked according to their detection rates:
Grade A+: ≥ 99.5%.
Grade A: ≥ 97%.
Grade B: ≥ 90%.
Grade C: ≥ 85%.
Grade D: ≥ 75%.
Emsisoft's Stellar Performance
We are proud to report that Emsisoft Anti-Malware outperformed expectations. The software successfully identified 99.60 percent of the 1,772 malicious samples, all while maintaining a false-positive rate of 0.000%. This impressive performance earned Emsisoft Anti-Malware the VB100 certification with an A+ grade.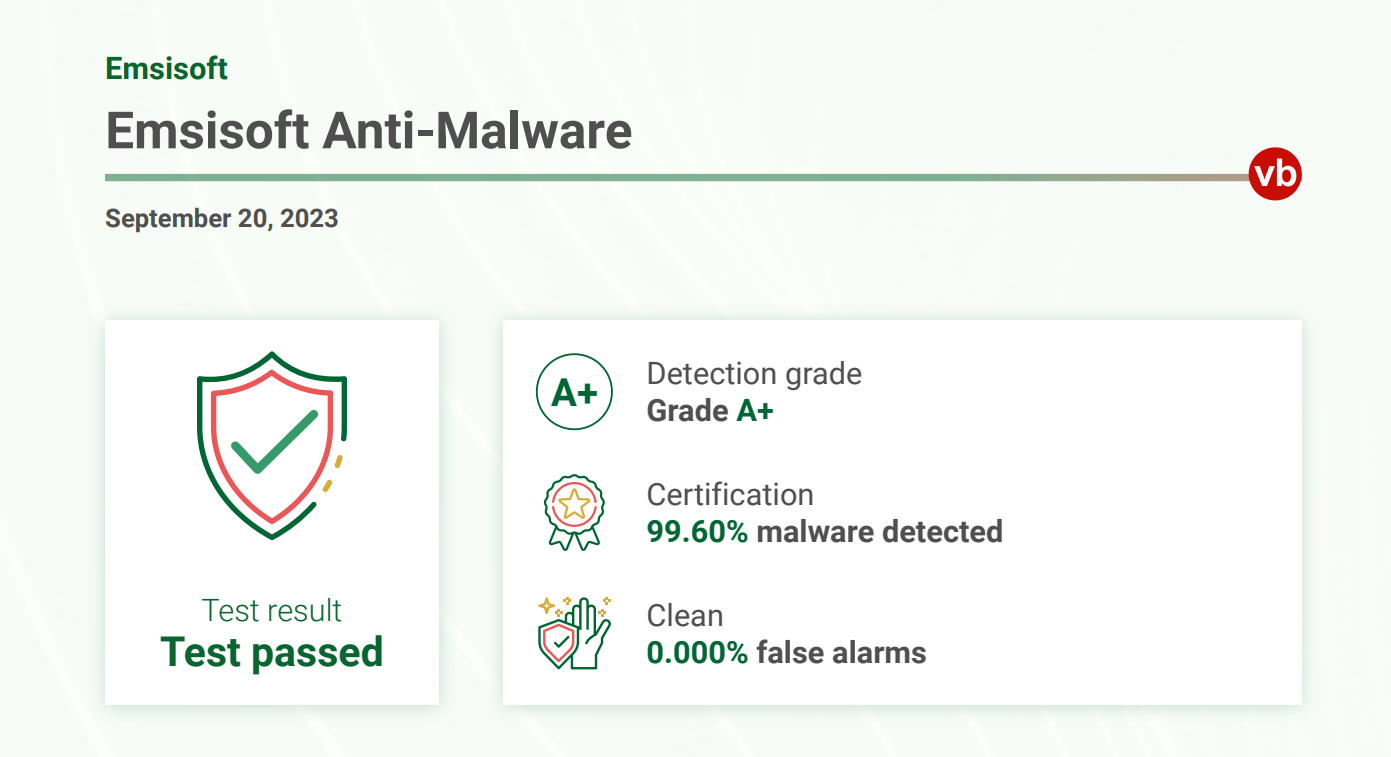 For a comprehensive breakdown of the results and an in-depth understanding of the testing methodology, you can view the full report.
Emsisoft Enterprise Security + EDR
Robust and Proven Endpoint Security Solution For Organizations of All Sizes.
Start free trial
Emsisoft's dedication to robust and reliable security solutions is unyielding. We extend our sincere thanks to our team, partners, and valued users. We remain committed to shielding digital environments from threats and delivering world-class protection.