A Typical Day at Emsisoft's Headquarters
February 28, 2014

4 min read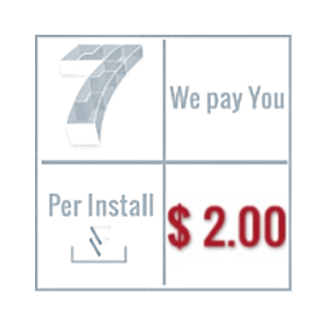 PUPs, they're called. Potentially Unwanted Programs that sneak in on the software you buy. Those annoying toolbars and extensions that overload your computer with resource-wasting applications you don't need.
Creating malware is illegal. Creating a PUP is not. Not yet at least. That's because PUPs technically notify users before they are installed. It happens when you run through the installation wizard on a new software. You click: NEXT, NEXT, NEXT, ignoring all the fine print because you don't have the time. All the while, you're unknowingly overloading your computer with junk.
Sound pretty fishy? That's because it is. It's entirely deceptive, and for software developers looking to make a quick buck it's an excellent way to cash in. PUP-Peddlers approach legitimate developers with pay-per-install offers all the time. PUPs are not really programs at all. They're just advertising.
"Include my PUP in your installation process, and I'll give $1 every time it's installed," they say. And many developers simply can't help themselves. Many developers say: YES, YES, YES.
This is NOT the case with Emsisoft. It never has been, and it never will be. It's entirely the opposite, in fact. In fact, Emsisoft Anti-Malware is designed to prevent PUPs, because we know that nobody wants them. Chances are you probably didn't know this about us. Funny thing is, PUP-Peddlers don't know it either.
Episode 1: The Potentially Unwanted Person
As it just so happens, our managing director, Christian Mairoll, was recently approached by a particularly pushy PUP-Peddler on Skype. For all of us here at Emsisoft, this was pretty comical.
We have included the full transcript of this conversation for your reading pleasure below. As a primer, we'd also suggest having a look at our knowledge base article, What is a PUP.
Enjoy the read, and Have a Great (PUP-Free) Day!
—————————————————————————————————————————————————–
[08:38:46]
PUP-Peddler: Hi Christian Mairoll, I'd like to add you as a contact. PUP-Peddler
Christian Mairoll: hi there. how can i help?
PUP-Peddler: Hi. Christian. How are You ?
PUP-Peddler: I am looking forward to have some conversation with You regarding Bundling
Christian Mairoll: forget it
PUP-Peddler: why not ?
Christian Mairoll: we have strict ethical principles here at emsisoft
PUP-Peddler: Still it can have a lot of revenue
Christian Mairoll: i'll not ruin my company in the long run for making quick money now.
PUP-Peddler: Yeah I know that
Christian Mairoll: no matter if you offer $1 or $100 per install
PUP-Peddler: Yes I know Christian
Christian Mairoll: ok, then please stop bugging me
PUP-Peddler: Can we have quick call ?
PUP-Peddler: just to ensure we dont get each other misunderstanding ..
PUP-Peddler: Google chrome was itself a pay per install product
Christian Mairoll: yes… and our antivirus product has lots of fun detecting all the bundle installers, like the one you are trying to sell me, as Potentially Unwanted Programs. our customers appreciate that all that browser stuff is effectively deleted by our software.
PUP-Peddler: I just need an introductory call then we can move on
Christian Mairoll: i just need you to stop this
PUP-Peddler: Or can We bundle Your application as advertisers so You have on everyone's computer
PUP-Peddler: stopping all unwanted programs
PUP-Peddler: and bundle installers
Christian Mairoll: then it would have to detect and remove itself
PUP-Peddler: lol ..
PUP-Peddler: Lets see if we have something in future .. and message me when You are interested in Bundle concepts .. I was just thinking to have a quick introductory call to see everything happening
PUP-Peddler: just to know each other
PUP-Peddler: http://securitygarden.blogspot.in/2012/02/avast-users-frustrated-with-unwanted.html
Christian Mairoll: ok, so you know that bundles are evil, yet you propose that I make the same mistake as avast?
PUP-Peddler: No .. I am looking forward to have a call
PUP-Peddler: and just a introduction nothing more than that
Christian Mairoll: i really admire your determination. hardcore sales guy. but unfortunately our businesses couldn't be farther away.
PUP-Peddler: I am just looking forward to have a call nothing more than that .. and it will be fine afterwards ..
PUP-Peddler: I am just making business collaboration no sales .. Because avg is a toolbar and many things .. I am not trying to change Your decisions … But to show every path
PUP-Peddler: before deciding anything .. before knowing all facts
Christian Mairoll: to make this clear once again: there is absolutely no chance we could ever do business together. not today, not tomorrow.
Christian Mairoll: do yourself a favor and drop me from your skype buddy list.
PUP-Peddler: ok .. I know we are not going to have Bundling business ..
PUP-Peddler: But in future If anything changes .. let me know
Christian Mairoll: of course
PUP-Peddler: have a nice day ahead Christian
Emsisoft Enterprise Security + EDR
Robust and Proven Endpoint Security Solution For Organizations of All Sizes.
Start free trial
PUP-Peddler: take care .. bbyee