Emsisoft Cloud Console
A completely free and easy-to-use web-console for managing the protection of all your endpoints, clients and sites.
Say goodbye to clunky, feature-limited consoles and desk visits
Accomplish more in less time. Emsisoft Cloud Console brings security management to a whole new level of simplicity. Manage the security for your company's or clients' endpoints with ease. With Emsisoft Cloud Console, you can access the exact same information and perform the exact same tasks as you could onsite.

Do more with less.
It's better than being onsite
Protected Computer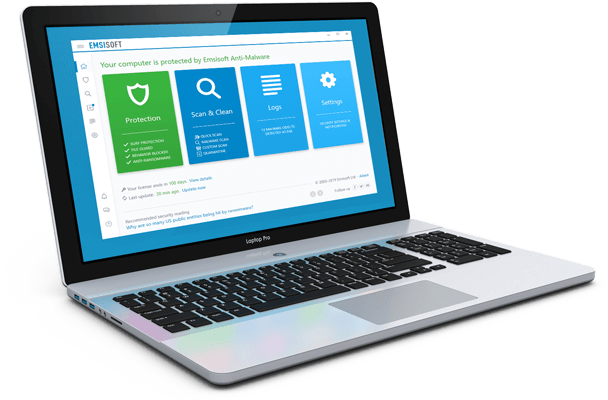 Mobile App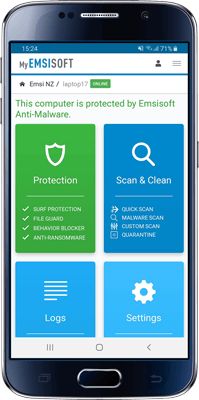 Web App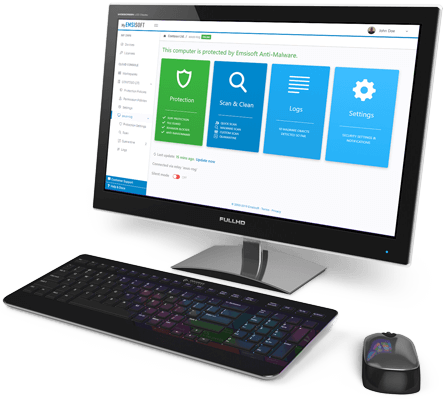 Manage your security and respond to alerts anywhere, anytime. Emsisoft Cloud Console can be accessed via a web browser or via apps for Android and iOS from any device. See exactly what your users see. Being out of the office doesn't mean you have to be out of touch.
Time savers for security admins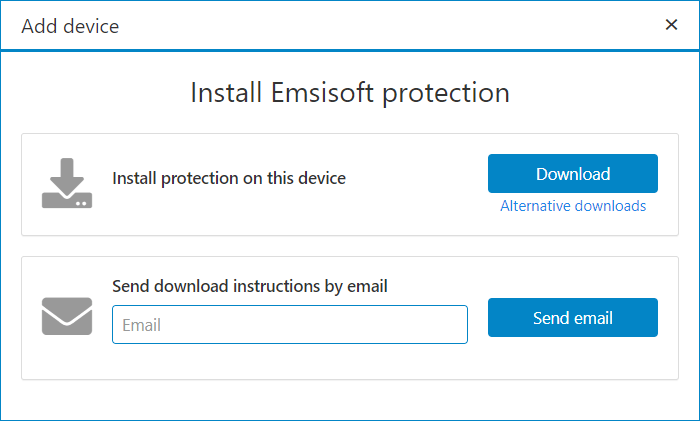 One-click deployment
Emsisoft Cloud Console makes deployment super-simple:
Quick-fix feature in dashboard
Use the dashboard to quickly fix disabled protection, missing updates and other problems without needing to be onsite.

Pushing productivity to a new level
Initiate malware scans
All scan types with all available settings.
Real-time notifications
Get instant notifications of scan results via email or webhooks.
View and edit quarantined objects
Including re-scanning and submission to our malware lab.
Full forensic logs
See exactly what happened and who triggered an action.
Custom protection policies
Apply team-based policies with ease.
Custom user permission policies
Set user- or team-based permission policies.
Custom device-specific settings
That can be set online or locally.
Multi-tenant workspace model
Define different user roles to access a workspace.
Safety & privacy
Designed from the ground up with security in mind.
Save precious bandwidth with the Relay feature

All devices download updates directly from the Internet, which may overload your local network capacity and also your uplink.
One or more of your devices are configured to act as a relay for all data transfers. Relays cache all downloads to reduce the total amount of internet traffic. Only data from and to Emsisoft servers is allowed.
Smart policy hierarchies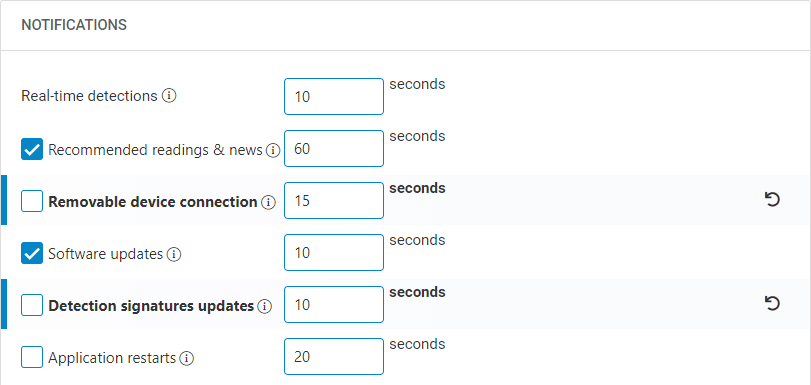 Policies in hierarchical order with inheritance and highlighting of edits on each level. View details
How much is it?
Zero. Zilch. Nada. Emsisoft Cloud Console is completely free!
Multi-workspace highlights for Managed Service Providers (MSPs)
Our customer reviews speak for themselves
This is hands down the best cloud access I have ever seen with antivirus. It is literally a mirror of what you see on the desktop. Every other antivirus we've ever worked with it's like 2 different teams of engineers work on the antivirus and the console which becomes very annoying when trying to do things.
Ben Stedman
Senior IT consultant
Stedman Computer Solutions
I've been playing around with the console since yesterday. It's amazing! So far I'm happy with this even if it stayed like this for features. It controls all aspects of the program and it's leaps and bounds from anything else I've dealt with so far.
Aaron McFarland
McFarland IT Solutions
I also want to applaud the ECC. I've been hammering it and so far, it has done extremely well. Your team also responds quickly and has done an outstanding job on the design/implementation of ECC thus far.
I like the console, especially how it mimics the agent on the client machines. It's pretty user friendly and easy to understand.
Robert
Aheliotech
See how easy to use it is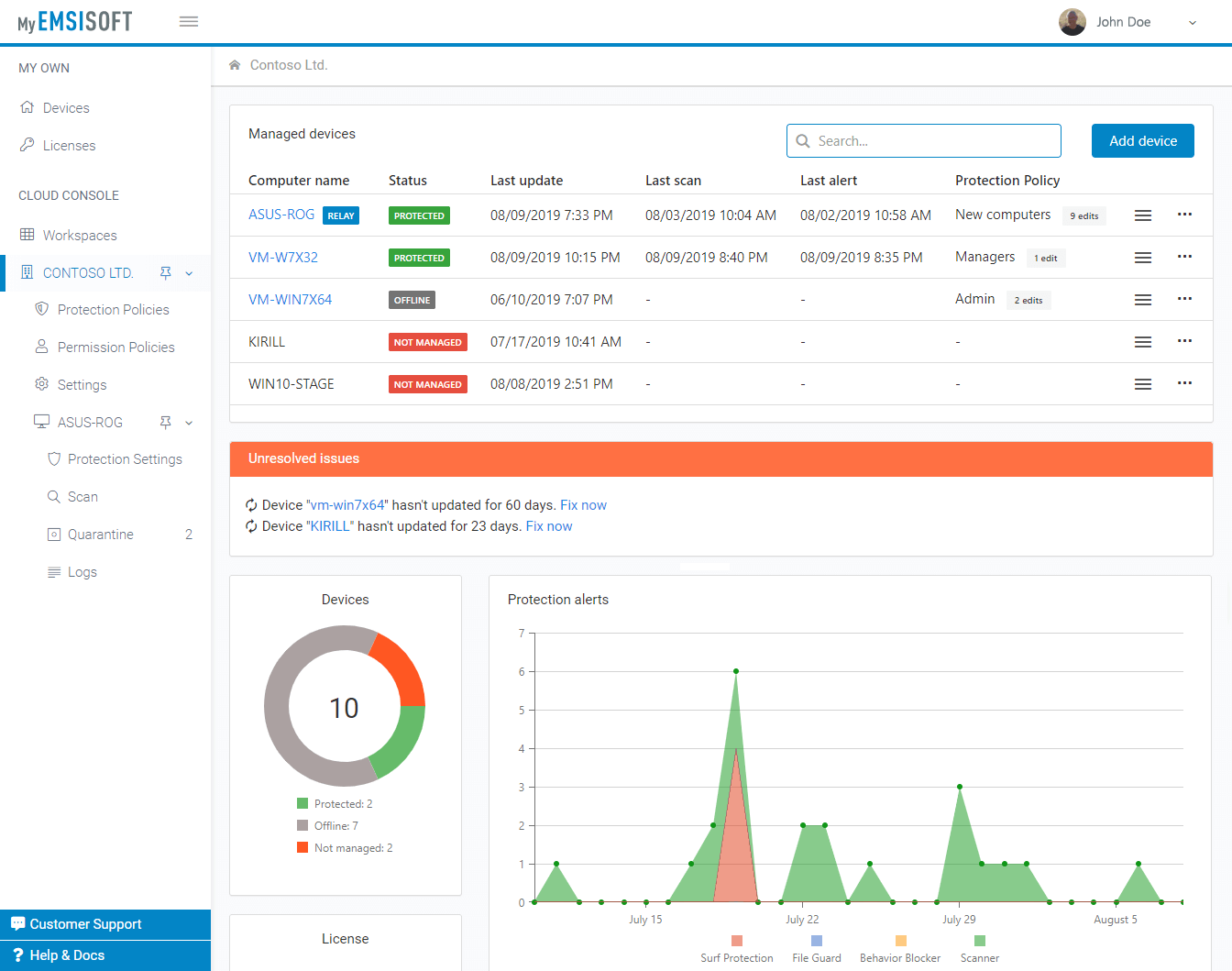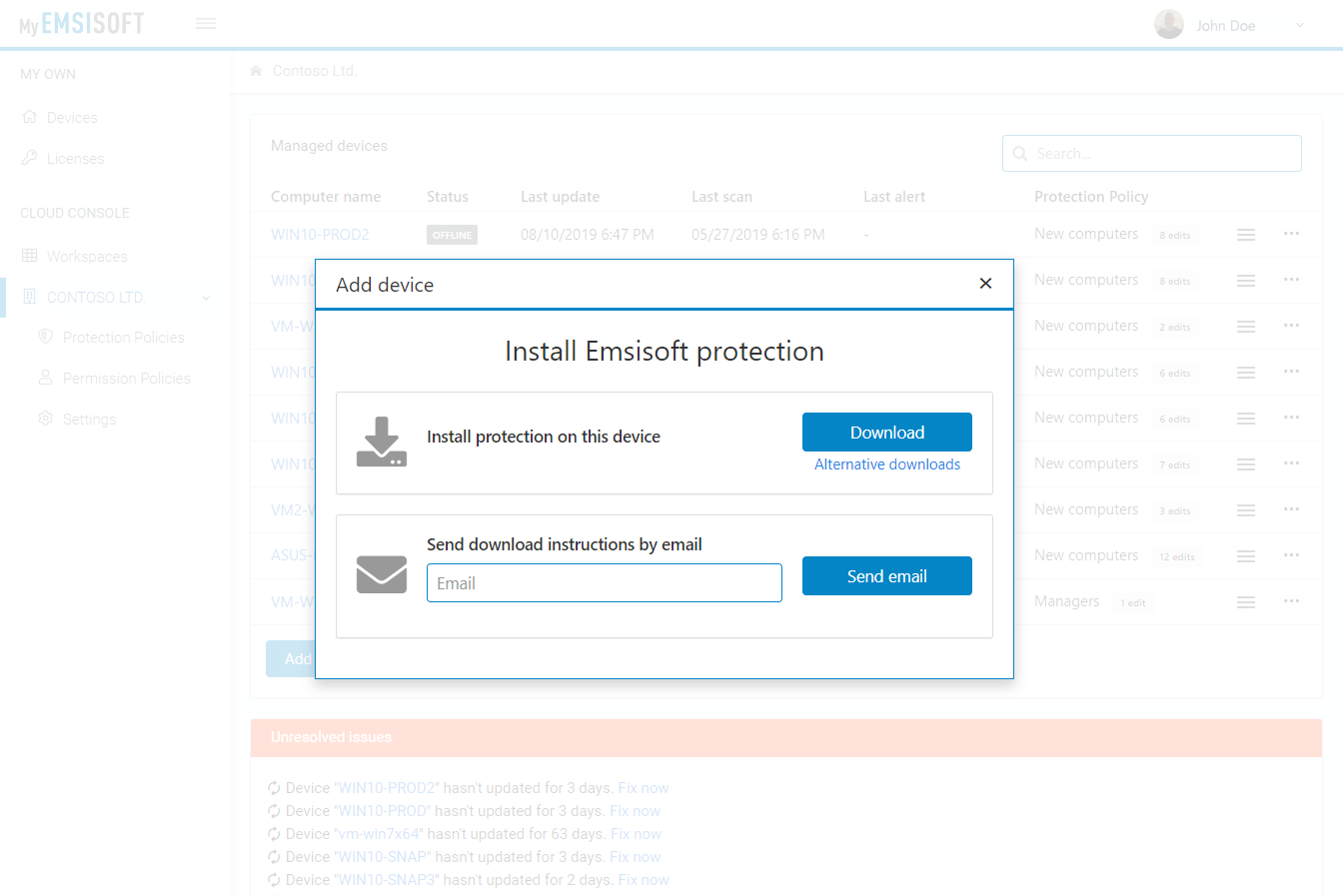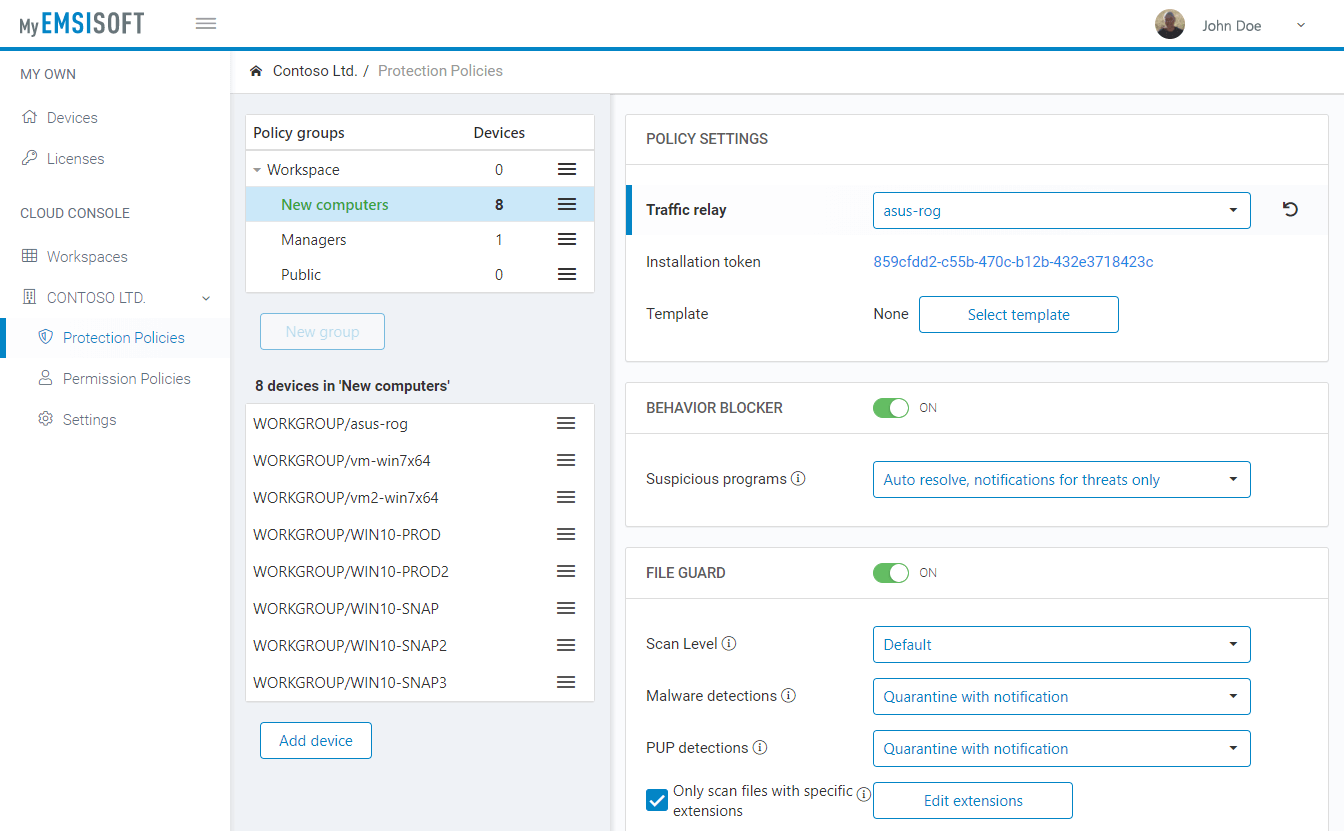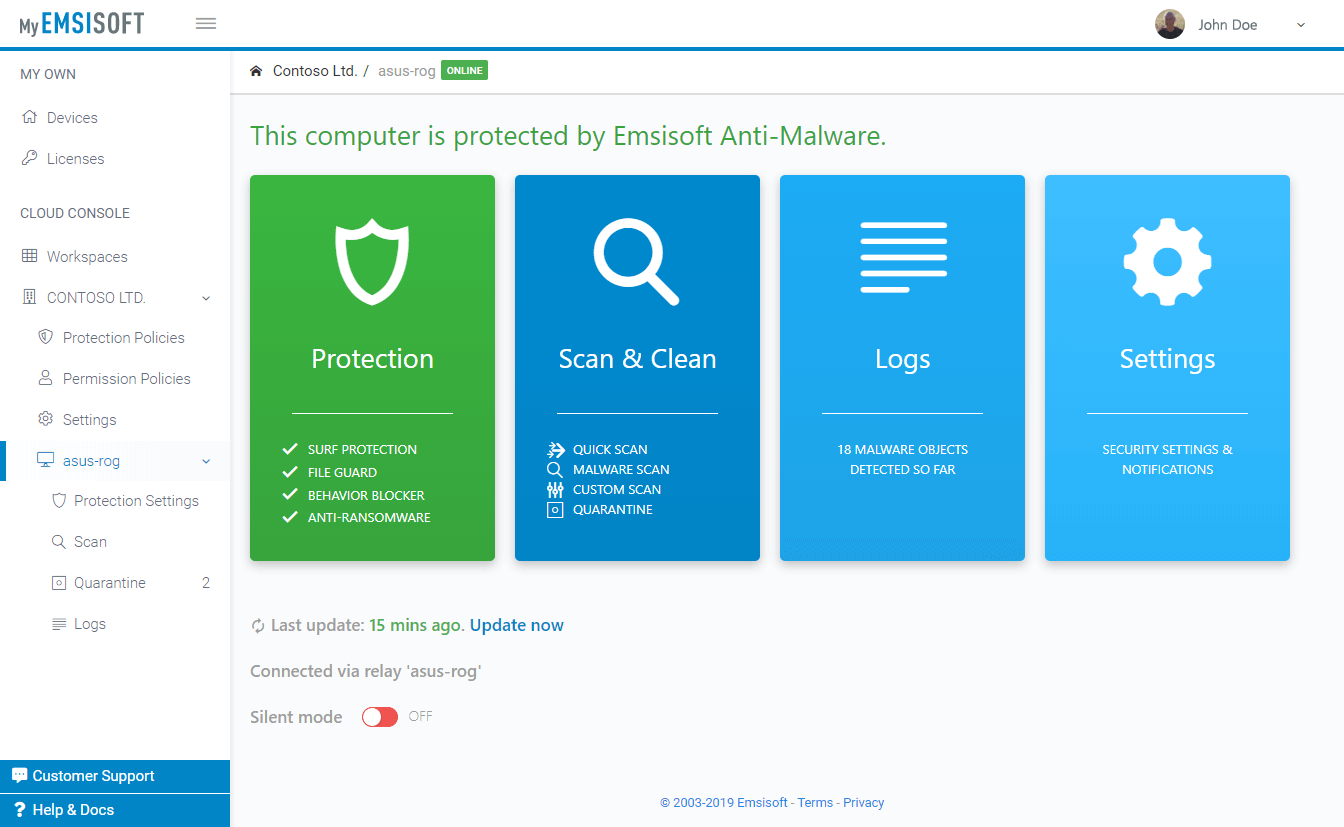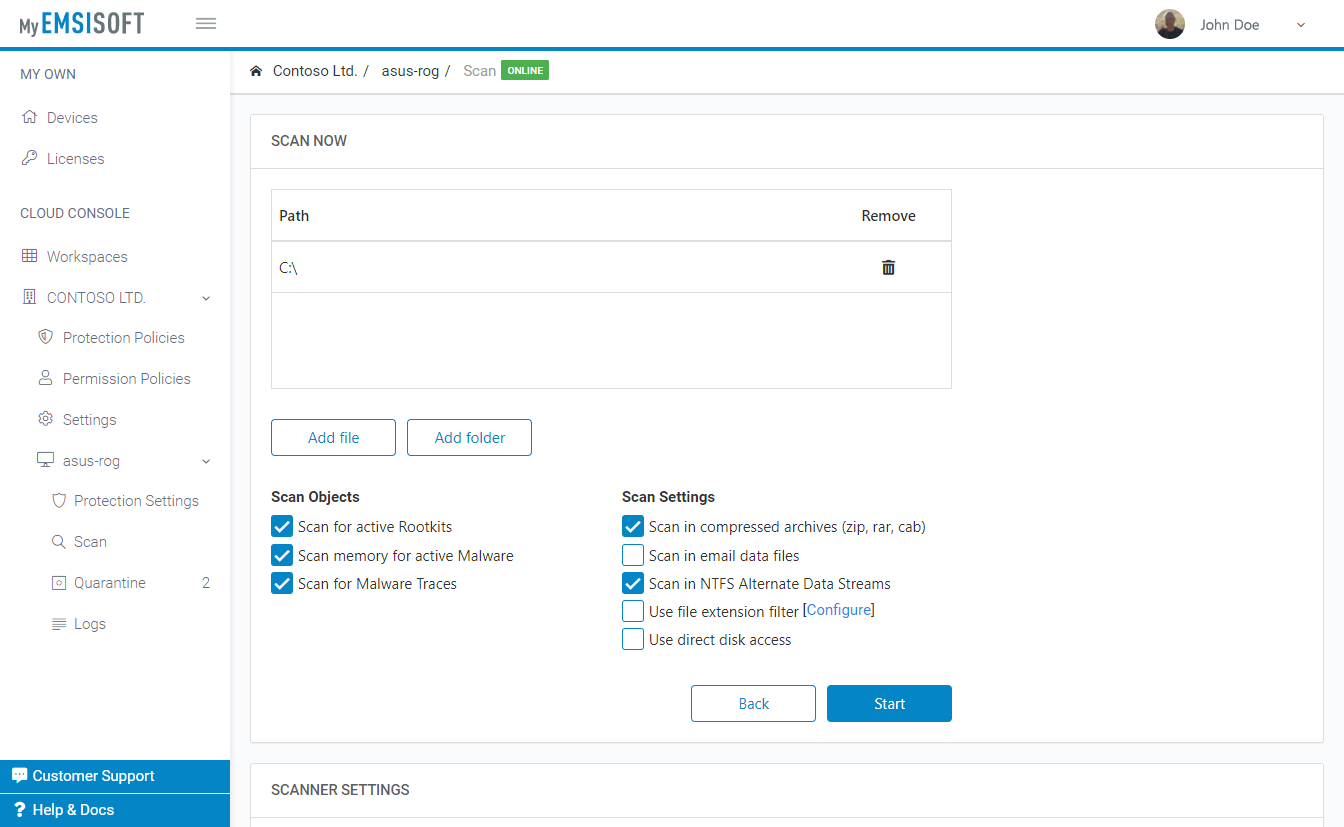 You might ask…
Which product editions can be managed?

Emsisoft Cloud Console can be used to manage all Windows desktop and server protection products: Emsisoft Anti-Malware Home, Emsisoft Business Security and Emsisoft Enterprise Security.

How can I automate deployment?

Each workspace has its own custom installer. When using that installer, newly added devices will automatically authenticate with your workspace. Use the /quiet parameter for invisible batch installations or create a Group Policy Object (GPO) configuration in your Active Directory domain. View Details

How do I migrate my devices from Emsisoft Enterprise Console?

Simply log in at MyEmsisoft and create a new workspace for your organization. Then apply your license and download your custom installer. Run that installer on all your devices (e.g. silently via GPO) to seamlessly connect them to your cloud workspace. That's it. Seconds later your devices will show up in your cloud management panel.

What languages is the console available in?

Emsisoft Cloud Console is currently available in English, German and French.

Where can I get answers to other questions?

Please contact us through one of our support channels:

Chat: Send us a message
Email:

[email protected]


Community Support: https://support.emsisoft.com