Emsisoft Emergency Kit
Programs that can be used without installation to scan and clean infected computers
Download now
Version 2018.6.0.8742 — Released: 07/02/2018
For Windows 7/8.1/10, Server 2008 R2/2012/2012 R2/2016/2019

Every hero needs a sidekick
Emergency kit
The malware Emergency Kit for infected PC´s
Award-winning
Award-winning dual-scanner to clean infections
Portable
100% portable - Ideal for USB flash drives
How it works
The Emsisoft Emergency Kit contains a collection of programs that can be used without software installation to scan for malware and clean infected computers: Emsisoft Emergency Kit Scanner and Emsisoft Commandline Scanner.
Emsisoft Emergency Kit Scanner
The Emsisoft Emergency Kit Scanner includes the powerful Emsisoft Scanner complete with graphical user interface. Scan the infected PC for Viruses, Trojans, Spyware, Adware, Worms, Dialers, Keyloggers and other malicious programs.
Emsisoft Commandline Scanner
This scanner contains the same functionality as the Emergency Kit Scanner but without a graphical user interface. The commandline tool is made for professional users and is perfect for batch jobs.

To run the Emsisoft Commandline Scanner, perform the following actions:

- Open a command prompt window (Run: cmd.exe)
- Switch to the drive of the USB Stick (e.g.: f:), then to the folder of the executable files (e.g.: cd run)
- Run the scanner by typing: a2cmd.exe

Next you will see a help page describing all available parameters.

The following parameter is an example of scanning drive c:\ with Memory, Traces (Registry) scan enabled, and archive support active. Detected Malware is moved to quarantine.

a2cmd.exe /f="c:\" /m /t /a /q="c:\quarantine\"
See how easy to use it is
License
Emsisoft Emergency Kit is free for private use. For commercial use, please have a look at our
Emsisoft Emergency Kit Pro page.
Will it run on my PC?
Unless you have a rather outdated PC from the late 90s, the answer is most likely yes, assuming that you're using Windows 7, 8.1 or 10 or Windows Server (2008 R2/2012/R2 2016/2019) - with the latest service pack installed. All features are fully functional on x64 systems too. While running, Emsisoft Emergency Kit uses about 200 MB of your RAM which is quite low considering the millions of signatures that it must load. If your PC has at least 1 GB of RAM, this will be perfect.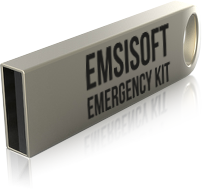 We're proud of these test results!

CNET - 5 out of 5 stars
In the right hands, Emsisoft Free Emergency Kit can bring powerful tools to bear on a wide range of PC troubles.

PC Mag recommends
If you're the security go-to guy (or gal) in your family, workplace, or neighborhood, stick a copy of Emsisoft Emergency Kit on a USB drive and keep it with you.

Komputer Swiat - Editor's Choice
It's a very useful and easy to use program! We recommend to everyone!

Download.com rated "Excellent"
Emsisoft Free Emergency kit belongs on any user's portable PC toolkit
Already have a clean system? Keep it that way.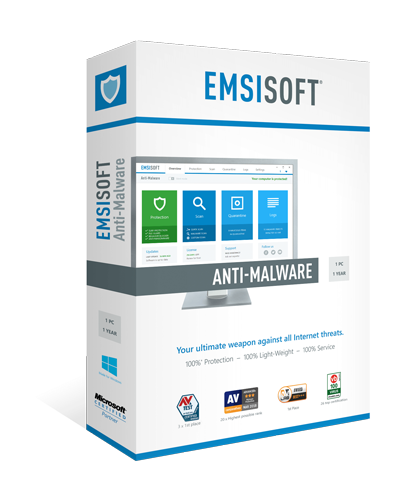 Unleash the full power of Emsisoft Anti-Malware and never worry about malware attacks again. Whether it's zero-day ransomware threats or the good old-fashioned virus: Emsisoft's complete protection has got you covered.

Start a 30-day free trial today and let our multi-layered real-time protection with behavioral technology protect your most precious memories without slowing you down.
Free download