Emsisoft Enterprise Console
Malware protection across your network for 3-500 clients
Download now
Getting Started User Guide
Version 2019.3.0.3456 — Released: 04/08/2019
For Windows 7/8.1/10 (Server 2008 R2/2012/2016/2019)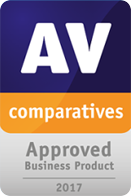 "The endpoint protection software is quick and easy to deploy and provides a familiar GUI that lets users carry out everyday tasks. The console has a very clean modern design, and we noted that commands are relayed from the console to the clients in a matter of seconds."

AV-Comparatives
Easy integration in your Windows network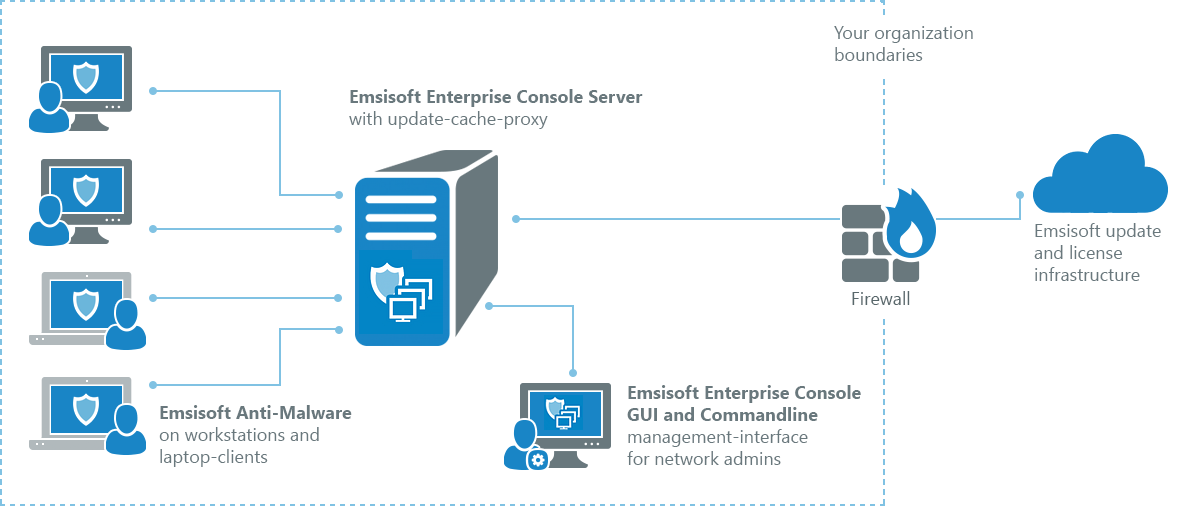 Benefits of centralized anti-malware management
Monitor malware findings across the network from a central spot.
Deploy protection without needing to deal with each machine individually.
Manage software settings and user permissions in groups.
Find and resolve any protection related client issues.
Save update- and download-traffic with a centralized caching proxy.
Create security status reports for administrators and management.
Receive real-time and summarized notifications via email and webhooks.
Protection settings and user permissions policies
Organize your client computers in hierarchical settings groups, ie. departments.
Change settings, ie. automatic threat handling for regular teams, more details for tech departments.
Set up scheduled scans to run in idle periods after work.
Whitelist custom software and specific folders if needed.
Define user groups which are allowed to modify specific protection settings, ie. inexperienced users should not be allowed to mess with settings or have the permission to disable protection.
Advanced custom reports
An extended set of pre-defined reports allow you to quickly see what's going on in your network, such as, recent malware findings, blocked website requests and suspicious software behaviours. A number of available data sets can be configured to render custom reports in different chart styles based on your organization's requirements.
Why Emsisoft Enterprise Console?
Saves Time
No need to remote connect or even worse, walk to each machine, to maintain protection.
It's Free!
Emsisoft Enterprise Console doesn't cost anything, but you'll need licenses for Emsisoft Anti-Malware on your clients.
Saves Money
Each software update is only downloaded once from the Internet, even if you have 100+ clients.
Technology Guarantee
Always receive all new software versions via auto-update.
Easy to Use
It doesn't matter if you have 3 or more than 100 client PCs. It's easy to get started.
Customer Focus
Challenge our first-class support team with any questions around the product.
No-Bloat Guarantee
Committed to maximum efficiency and protection, without slowdowns.
Ethical Business
We don't spy on our customers or sell their data for quick cash.
See how easy to use it is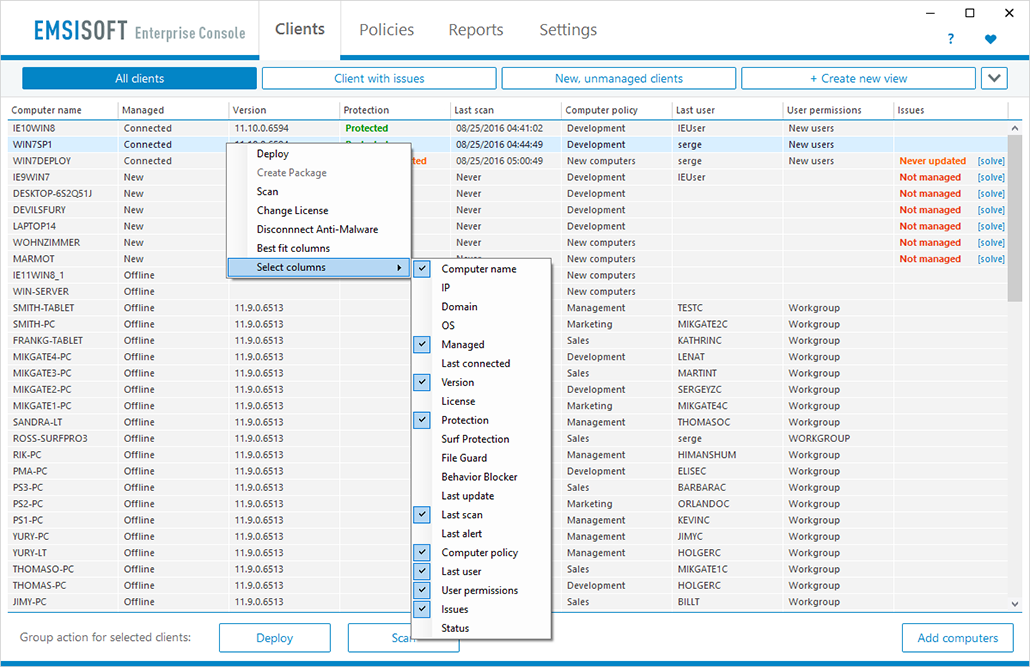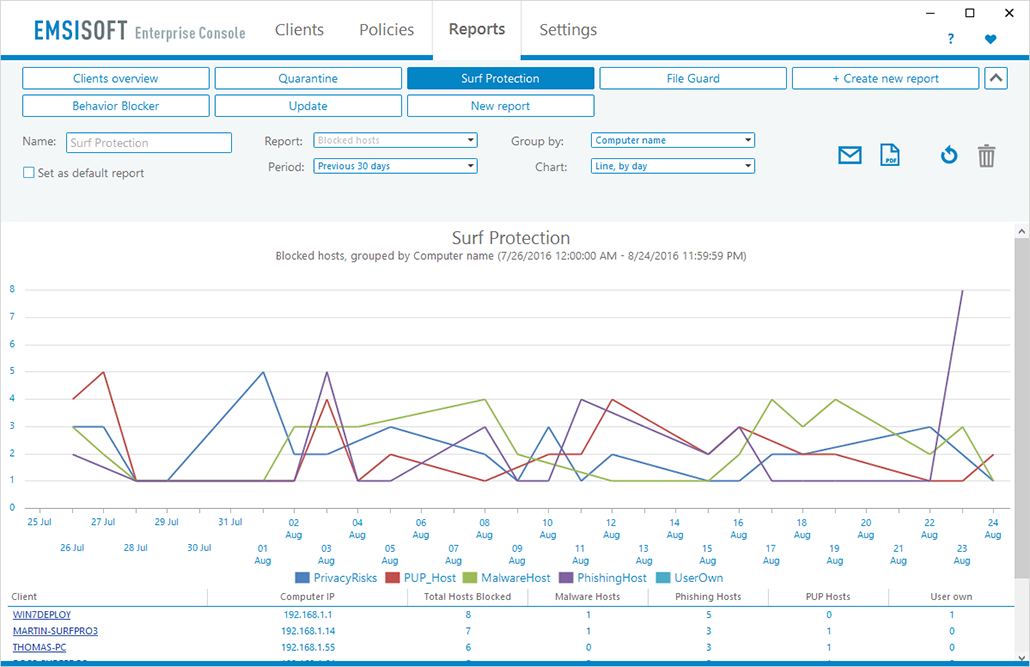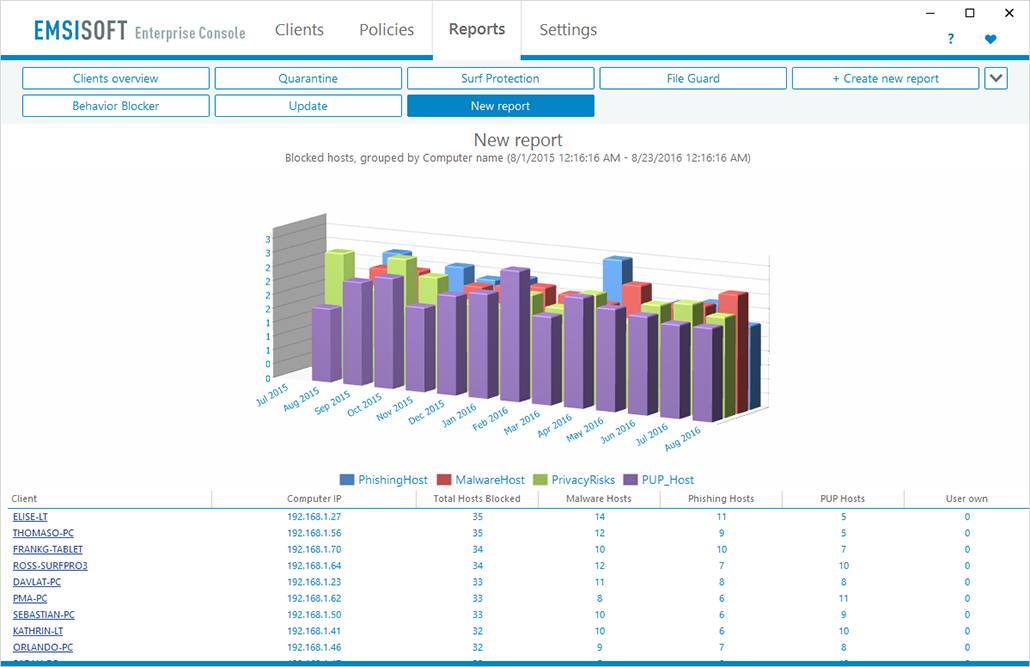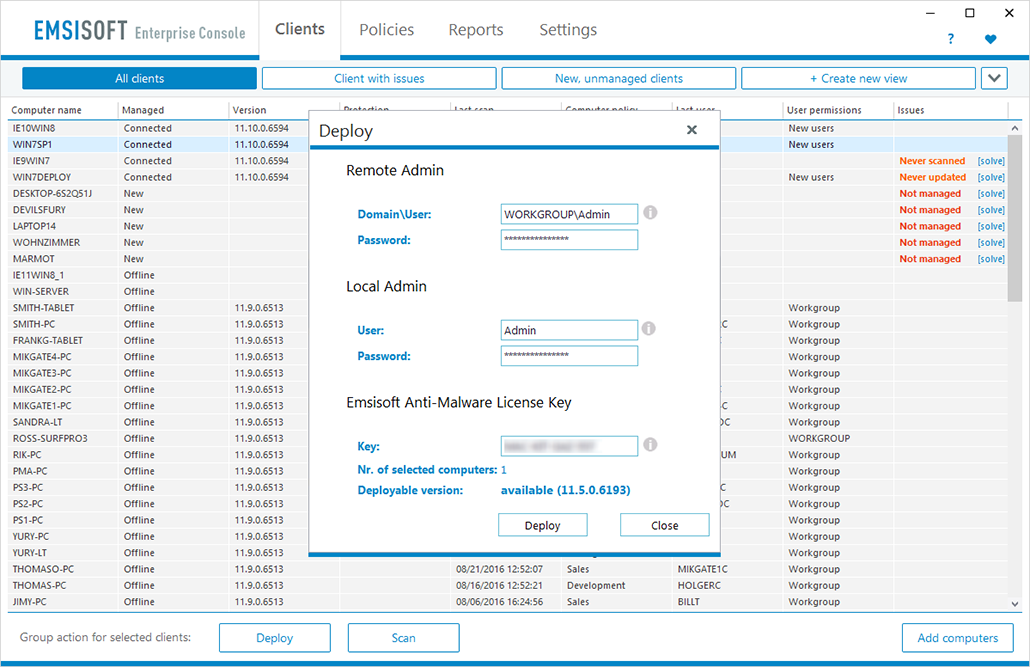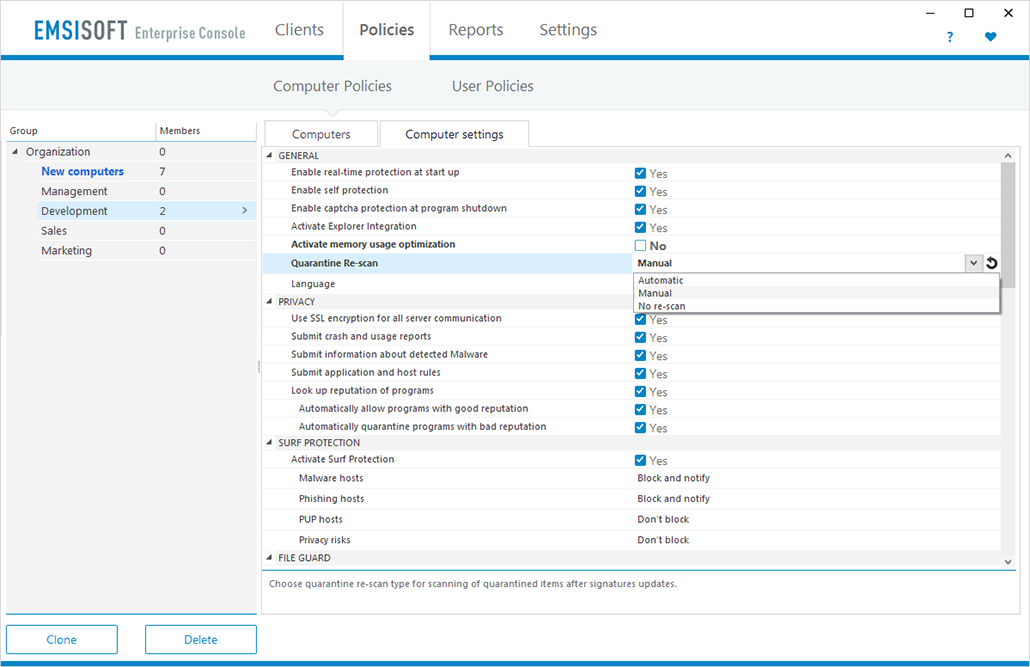 You might ask...
In what languages is the software available?

Emsisoft Enterprise Console is currently only available in English. We are working to provide further languages.

Does it protect my server?

No, Emsisoft Enterprise Console is a management tool for Emsisoft Anti-Malware on your machines (clients and servers), including your host machine. Emsisoft Anti-Malware takes care of protection.

Can I also manage clients outside my local network?

Yes, even if Emsisoft Enterprise Console can't reach a PC directly, you can reverse the direction by connecting your client (which may be behind a NAT) with the server using a custom compiled installation package. See the help file for details.

Does it support batch scripting?

Yes, Emsisoft Enterprise Console also comes with a Commandline interface which can be used to batch the creation of installation packages to add new computers to the console.

What kind of networks are supported?

Emsisoft Enterprise Console can be installed on Windows Server 2008 or higher, but also on Windows 7 or higher. Active Directory is supported. It's built to manage networks from 3 to 500 clients.

Does it need a pre-installed database?

No, Emsisoft Enterprise Console comes with its own light-weight SQLite database.

Where can I get answers on any other questions?

Please contact us through one of our support channels:

Forum: http://support.emsisoft.com
Email:

[email protected]