Password Security Best Practices: An In-Depth Guide
September 24, 2023

7 min read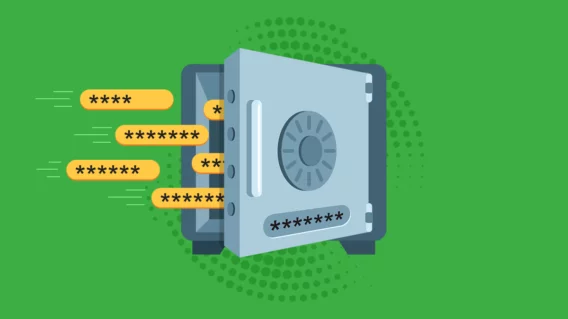 Poor password security can lead to a myriad of problems, ranging from unauthorized access to sensitive information to potential financial losses, and even reputational damage to businesses. The increasing complexities of cyber-attacks have highlighted the weaknesses in conventional password protocols. As individuals and businesses now utilize multiple applications and cloud-based services, the stakes for securing these entry points is higher than ever.
The scope of potential harm isn't limited to large corporations. SMEs, with typically leaner IT infrastructures, can become prime targets for cyber adversaries. Such enterprises, while trying to optimize operational costs, might unknowingly expose their systems to password-related vulnerabilities. Recognizing the gravity of password security is thus not just a technical necessity, but a strategic imperative.
In this comprehensive guide, we dive into the mechanics of password security, the various threat vectors, and the best practices to ensure that your digital entry points remain impregnable.
The Importance of Strong Password Practices
The online ecosystem has evolved, and with it, so have the intricacies of safeguarding access points. Passwords are the first line of defense in a layered security approach. Let's unpack the extensive implications of password vulnerabilities.
The Business Case for Robust Passwords
While individual security breaches can lead to personal data theft, the stakes are magnified for businesses. Here's a comprehensive breakdown:
Intellectual Property Theft: Businesses invest heavily in R&D to develop unique products and solutions. A single password breach can provide competitors with unauthorized access to this proprietary knowledge, undermining a company's market advantage.
Unauthorized Client Data Access: In industries like finance, healthcare, or any B2B service, client data sanctity is paramount. A breach can not only lead to legal consequences but can also erode client trust, which takes years to rebuild.
Financial Frauds: With businesses adopting digital banking and transactions, weak passwords can be a gateway for adversaries to siphon off funds. The direct monetary loss is compounded by the long-term harm to a company's credibility.
Operational Disruptions: Breached enterprise credentials can disrupt regular business operations. From locked accounts to altered data, operational continuity can take a significant hit, leading to service delays and contractual penalties.
Reputational Damage: News of security breaches spreads rapidly. The ensuing PR crises can tarnish a brand's image, leading to client attrition and reduced business opportunities.
Given the extensive ramifications, the role of a robust password management strategy becomes a cornerstone of a company's overall risk management plan.
Password Threat Vectors
To devise an effective defense strategy, understanding the avenues through which passwords can be compromised is paramount. Here's a detailed exposition:
Emsisoft Endpoint Protection: Award-Winning Security Made Simple
Experience effortless next-gen technology.
Start Free Trial
Password Leaks: Even the most reputable organizations can fall victim to breaches. When user data is leaked, and if the same passwords are recycled across multiple platforms, it amplifies the potential points of unauthorized access.
Brute Force Attacks: A tool-driven approach where attackers attempt myriad password combinations. The speed and efficiency of modern computing mean that billions of combinations can be tried in mere seconds. Passwords below 12 characters are especially vulnerable.
Keyloggers: Like silent predators, these malware variants operate covertly, logging every keystroke. Without state-of-the-art malware detection and regular system audits, these threats remain undetected, often for extended periods.
Phishing: More of a psychological exploit, these attacks bait users into volunteering their credentials on carefully designed fraudulent platforms. The increasing sophistication of these faux platforms makes them hard to distinguish from legitimate ones.
Post-exploitation Tools: Once an attacker gains initial access, these tools work to deepen the foothold, seeking additional vulnerabilities and extraction points. Tools such as Mimikatz can be particularly harmful; it's capable of retrieving passwords and other critical data.
Rainbow Table Attacks: These don't target passwords directly. Instead, they reverse-engineer password hashes. Though cryptographic hashes like MD5 and SHA-1 might seem impervious, they're susceptible to decryption through these methods. This has led to an industry-wide pivot to more resilient solutions like salted hashes.
Constructing Resilient Passwords
Creating a robust password isn't merely about complexity; it's a confluence of length and unpredictability. Here's a deep dive into the best practices:
Password Length & Complexity
Length Matters: A password's resilience increases exponentially with its length. Aim for a minimum of 16 characters. Extended length compensates for the brute-force capabilities of modern-day computing.
Diverse Character Set: Use a mix of uppercase and lowercase letters, numbers, and special characters. A wider character set combats rainbow table and dictionary attacks effectively.
Avoid Dictionary Words: Cyber adversaries often deploy dictionary-based tools, making whole words in passwords vulnerable. Opt for combinations that don't adhere to standard lexicon structures.
Using Phrases & Acronyms
Passphrases: Instead of traditional passwords, consider using coherent yet random phrases. For instance, "BlueSkyRain$Summer43!" is both lengthy and complex, making it a formidable defense.
Acronyms: Convert memorable sentences into acronyms, mixing in numbers and symbols. "I graduated with honors from Stanford in 2010!" can become "Eyegwhf$tanIN10!".
Password Aging & History
Regular Changes: Enforce a password change policy, preferably every 60 to 90 days. This limited window reduces the viability of stolen or leaked credentials.
Password History: Maintain a history to prevent users from recycling recently used passwords. A history of the last 12-15 passwords strikes a balance between security and user convenience.
Protective Measures Beyond Passwords
Relying solely on password strength might be an oversight. Augment your security posture with these additional measures.
Multi-Factor Authentication (MFA)
Definition: MFA adds a second layer of security by requiring not just a password, but a secondary proof of identity.
Methods: This could be an SMS-based code, biometric authentication, or a time-sensitive token generated by an app.
Benefits: Even if an attacker deciphers the password, without the secondary proof, access remains blocked.
Password Managers
Storage & Encryption: Password managers store credentials in an encrypted vault, making manual entry redundant.
Auto-Generation: Many offer an auto-generate feature, crafting passwords adhering to best practices.
Benefits: Reduces human errors, prevents reuse across platforms, and counters keyloggers as users aren't typing passwords.
Regular Security Audits
Definition: Periodic assessment of systems to detect vulnerabilities.
Scans & Penetration Testing: Automated scans combined with manual penetration tests provide insights into potential breach points.
Benefits: Early detection and mitigation, ensuring that both passwords and systems remain fortified against evolving threats.
Educating and Training Staff
The human element remains the weakest link in cybersecurity. Here's a strategy to fortify it:
Regular Training Sessions
Cyber Hygiene: Teach employees the importance of unique passwords across platforms, spotting phishing attempts, and reporting suspicious activities.
Scenario Drills: Conduct mock phishing attacks or simulations to ensure training translates into practice.
Monitoring & Feedback
Active Monitoring: Use software solutions to monitor for unauthorized or unusual access patterns.
Feedback Loops: If vulnerabilities are found, ensure there's a system to provide feedback to the concerned employees, emphasizing the need for adherence to security protocols.
Emphasizing Shared Responsibility
Culture of Security: Position cybersecurity as everyone's responsibility, not just the IT department.
Reward & Recognize: Acknowledge and reward employees who demonstrate exemplary security practices or highlight potential threats.
Phishing-Resistant Multi-Factor Authentication (MFA)
Traditional password-based authentication is now considered inadequate. An update to your authentication strategies is essential; focus on security resilience to sophisticated threats such as phishing.
Phishing-resistant MFA addresses the shortcomings of traditional authentication methods. Conventional MFA, although more secure than passwords alone, can still be prey to phishing schemes. In contrast, phishing-resistant MFA offers a fortified defense.
This method specifically combats vulnerabilities linked to passwords, considering the plethora of ways they can be breached. It includes password-phishing sites, keystroke logging malware, and human errors like opting for weak passwords or reusing them. Distinguishing features of phishing-resistant MFA include:
FIDO/WebAuthn Authentication. A modern web standard approved by the World Wide Web Consortium (W3C), FIDO/WebAuthn introduces passwordless authentication, where cryptographic login credentials are bound to a specific device, requiring user verification via biometrics or other local authentication methods. This ensures that even if a user's login details are exposed elsewhere, the authentication process remains secure.
Public Key Infrastructure (PKI)-based Authentication. Utilizes cryptographic keys for user identity validation, ensuring information, even if intercepted, remains undecipherable.
Biometric Authentication. Beyond passwords and tokens, it leverages unique physical or behavioral traits such as fingerprints, facial patterns, voice attributes, and eye scans, permitting access only upon an exact match with the user's distinct characteristics.
By integrating biometric authentication, hardware tokens, and push notifications to trusted devices, it becomes exceedingly challenging for attackers to impersonate users.
The Imperative of Phishing-Resistant MFA
Cybersecurity authorities and organizations, including CISA, advocate for the implementation or transition to phishing-resistant MFA, especially for high-value targets. It's recognized as the benchmark in MFA, providing an impregnable defense against an array of cyber threats. Adopting this advanced authentication method not only reinforces defenses against unauthorized access but also accentuates a commitment to data integrity and confidentiality.
In essence, while any MFA is a step up from password-only systems, the robust security provided by phishing-resistant MFA is paramount in the current digital domain.
Conclusion
Digital access points serve as the gateway to invaluable data, making fortified password security imperative. With a thorough understanding of the threats at play and the adoption of advanced authentication methods like phishing-resistant MFA, both individuals and organizations can better safeguard their private information. It's not just about creating resilient passwords but also about fostering a holistic security culture, with prevention, education, and continuous improvement.
Published January 23, 2018; Updated September 24, 2023