Emsisoft Anti-Malware named one of AVLab's top recommended paid antivirus suites of 2019
April 17, 2019

3 min read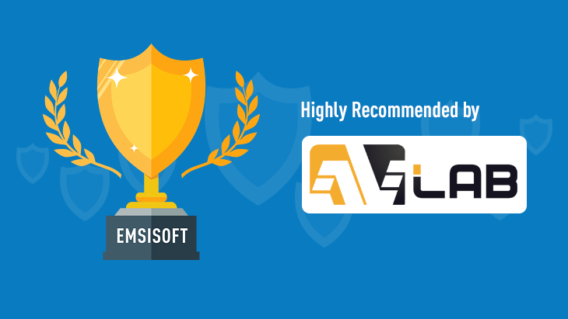 AVLab is an independent security software testing group based in Poland. The organization recently released a report of the best recommended paid antivirus suites of 2019, and we're pleased to announce that Emsisoft Anti-Malware Home made it on the list!
Why does AVLab recommend Emsisoft Anti-Malware Home?
As AVLab noted in its report, there are so many security suites on the market that it can be difficult to know which ones are worthy of your consideration. To help make the decision a little easier, AVLab compiled a list of recommended products based on the results of internal and external tests, as well as the professional experiences of AVLab analysts.
According to the report, Emsisoft Anti-Malware Home earned a spot on the list thanks to its excellent protection capabilities that have been proven time and time again.
"In the tests of security products for small and medium-sized enterprises and individual users, Emsisoft software has been repeatedly awarded for excellent behavioral protection in real time and impeccable performance of the products."
The authors went on to say that Emsisoft Anti-Malware Home is particularly strong when it comes to ransomware, and was one of the first products to be able to block WannaCry without relying on signatures. The report also made note of the new Emsisoft Browser Security extension and highlighted its privacy-conscious approach to protection.
"The Emsisoft software has recently received the Emsisoft Browser Security extension for browsers that puts privacy first. Instead of uploading the full URL address of each website to the cloud for verification, it calculates a hash of the website, and then it compares patterns with threats matching the calculated hash function. This means that Emsisoft doesn't log any details about browsing activity and oversteps when it comes to privacy."
AVLab awards Emsisoft BEST++ award for online banking protection
As mentioned above, AVLab's recommendations are partly based on the organization's internal tests. One of these recent tests was focused on banking attacks. It was designed to measure how effectively a security product can stop cybercriminals from stealing your login credentials and gaining access to your bank account.
We recommend flawless and easy to use Emsisoft software to all who want to use the install-and-forget type of suite…
How AVLab carried out the test
The test was carefully designed to simulate a dozen different types of attacks that are capable of stealing important data entered into a browser or data stored on a machine running Windows 10.
The test involved installing each security product on a previously prepared image of Windows 10 and downloading malware to the system through Chrome from a temporary server. Security products were first tested using default setting and again using modified settings tweaked to maximize protection. All malware samples used in the test were zero-day threats, allowing analysts to see how the products would cope when exposed to new and unfamiliar attacks.
Emsisoft Anti-Malware Home earns BEST++ award
We're proud to announce that Emsisoft Anti-Malware Home performed well in the tough testing conditions and was consequently awarded the BEST++ award.
"A characteristic feature of Emsisoft Anti-Malware Home is behavior blocker that monitors all active applications in real time for dangerous indicators," wrote the authors of the report. "It allows detecting new trojans, ransomware, spyware, backdoors, and other dangerous 0-day threats. The technology is based on a proactive method, so it doesn't need updated signatures."
About AVLab
AVLab is an independent organization based in Poland. The organization specializes in testing the capabilities of security products in conditions that are designed to simulate real-world attacks. AVLab regularly releases detailed reports that offer users valuable insight into the effectiveness of many security products available on the market.
Click here for the full list of recommended products, click here to read more about the online banking protection test, or click here to check out some of the other awards we've won in the past.
Emsisoft Enterprise Security + EDR
Robust and Proven Endpoint Security Solution For Organizations of All Sizes.
Start free trial
Have a good (malware-free) day!