Four easy ways to stay safe online during the holiday season
December 21, 2020

4 min read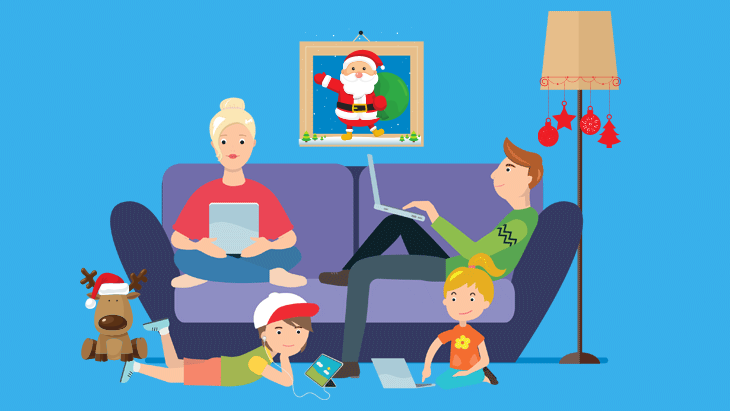 Who would have thought that holiday 2019 would be the "last" of the traditional holidays we've enjoyed for so long (at least for some time)?
This year, there are no carolers, no shopping in packed malls, no ice skating in public rinks, and very little of all the other holiday fanfare we're used to.
Instead, many of us are home—in front of the computer for several hours per day—studying or working remotely. There's also shopping, gaming, and watching, all done online as well. (Quick shoutout to the front liners and essential workers! Thank you!)
Suffice it to say, holiday season 2020 is unlike any we've had in recent memory. And cybercriminals are having the profit of their lives.
As the holidays approach, we start to let our guard down. Many people are on vacation and trying to relax. Cybercriminals, on the other hand, are hard at work. They're busy breaking and hacking networks, planting malware, or sending out phishing emails. The attacks never end.
And as if the holidays (and pandemic) were not burning enough holes in our pockets, a cyber attack can happen at any time, too. We're pretty sure the last thing you need right now is paying hackers thousands of dollars of ransom to decrypt your personal and work files.
So to help you avoid more headaches, here are four easy things you can do to stay safe online during this holiday season (and beyond):
1. Create a separate guest wifi
If you have a few friends and family coming over, you absolutely need to create separate guest wifi. Particularly if you work from home since your business files could be accessible in your home network.
Having separate wifi helps keep your home network separate and secure from your guests. That way, you feel comfortable giving out the password and not worrying about having to remember to change it after your guests leave.
Yes, we still recommend you create guest wifi even if you trust your friends and family with your life. The folks at LifeWire wrote a great post on how to create guest wifi.
2. New year, new password
Update your passwords, or better yet, get yourself a password manager. It will save you a lot of time and potentially a lot of headaches down the line. Hackers are busy breaking through accounts using publicly leaked passwords. Don't make it too easy for them.
Depending on how many online accounts you have, this could take a few minutes to an hour or two of your time. So think of this as an investment—you're actually saving yourself hundreds, if not thousands, of dollars from avoiding a cyber-attack. Not to mention setting yourself up for security success.
We have a winning guide on password management here.
3. Shop securely
Found a unique gift from an eCommerce store? Doing more last-minute shopping (even if it's just gift cards)? Before you checkout and provide your card info, make sure you're on a secure site.
First, try to only go to online stores you know and trust.
Second, check the site's URL and make sure there's "https://" at the beginning, and the URL is what you expect it to be. For example, if you're on Paypal, make sure the URL says "paypal.com" not a misspelled variant like "paypaal.com," or any other unrecognized URL.
Third, consider using disposable or virtual credit cards (VCC), especially for one-off purchases. Doing this helps further secure your information. Visit this virtual card page to learn more about how VCC's work.
4. Keep your security apps running
Your antivirus, VPN, etc., are some of your most vital defense against hackers. Keep them running.
Cybercriminals are going all out and will try to catch you everywhere on the web. Whether by downloading an app or file, clicking on an email, or visiting an innocent-looking website, you can fall prey to malware within seconds.
Might we suggest our very own Emsisoft Anti-Malware to help keep you and your family protected? No insane popups. Won't slow down your PC. Get a free 30-day trial here.
Your security settings are there to protect you from malware, so please leave them on.
Conclusion
While we're on holiday vacation mode, trying to get a sense of normalcy from what's happened the past year, cybercriminals are working hard to victimize people. So setting up additional security measures like the tips above can help protect you, your family, and your business from malware.
And with your security settings on and passwords updated, you'll make cybercriminals say, "bah humbug!" —while you go on your merry way, enjoying the holidays, malware-free. That's one less thing to worry about, and we can all use that peace of mind right now.
~~~
🎅 A Message from the Emsisoft Team
This is our last blog post of the year. We hope that throughout 2020, we were able to give you relevant and helpful information that helped keep you safe from malware and other cyber threats.
We want to take this opportunity to thank you. You've been such wonderful customers and supporters this 2020 (and even before that).
For the coming year, our mission remains the same: to help protect you from malware. Especially at this time—when we're all trying to get by—we are working hard to help stop cybercriminals from stealing your (and ours) hard-earned money.
Happy Holidays and see you folks in 2021.
Protect your device with Emsisoft Anti-Malware.
Did your antivirus let you down? We won't. Download your free trial of Emsisoft Anti-Malware and see for yourself.
Start free trial