Emsisoft Business Security awarded 'Excellent' badge in March 2023 tests by AVLab Cybersecurity Foundation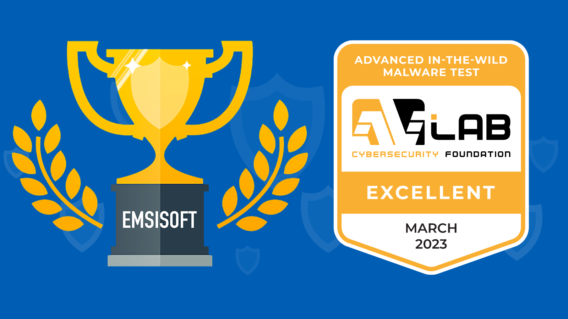 In March 2023, we took part in a series of tests designed to measure the detection capabilities of various endpoint security products. The tests were conducted by AVLab Cybersecurity Foundation, an independent organization that specializes in testing and reviewing security solutions.
The results are in and we're proud to announce that Emsisoft Business Security was once again awarded the 'Excellent' badge!
Testing methodology
To conduct the Advanced-in-the-Wild Malware Test, each security solution was installed on a virtual machine running Windows 10 Pro. The test environment contained a variety of applications found in a typical business setting, such as an office suite, document browser, email client and so on. The security solutions were updated before each test and allowed Internet access throughout the testing process.
The antivirus products were then exposed to hundreds of malware samples captured from the AVLab Cybersecurity Foundation honeypot network and verified to be malicious, as well as other public malware feeds such as the MWDB project and Malware Bazaar. Researchers analyzed the results to determine not only if the security products could stop the malware, but also when in the infection chain they would intervene (pre-launch or post-launch).
Badges were awarded according to the detection capabilities of the product:
Excellent: 100% detection.
Superior: at least 95% detection.
Valuable: at least 90% detection.
Results
We're delighted to report that Emsisoft Business Security excelled in the tough testing conditions, successfully detecting 100 percent of the 567 malicious samples.
Emsisoft Business Security also achieved an average Remediation Time of 242 seconds. Remediation Time can be defined as how many seconds it takes a security product to detect and resolve an incident after malware has been introduced to the system via the browser and launched.
Thanks to these strong results, Emsisoft Business Security was awarded the 'Excellent' badge!

Click here to see the full report, or click here to check out some of the other awards we've won in the past.
Emsisoft Enterprise Security + EDR
Robust and Proven Endpoint Security Solution For Organizations of All Sizes.
Start free trial
About AVLab Cybersecurity Foundation
AVLab Cybersecurity Foundation is an independent organization that specializes in testing and reviewing security solutions. The group regularly releases reports that offer valuable insight into the effectiveness of various security products. Software that receives a good recommendation from AVLab Cybersecurity Foundation can generally be trusted to provide a high level of protection.