Emsisoft Anti-Malware 9 released!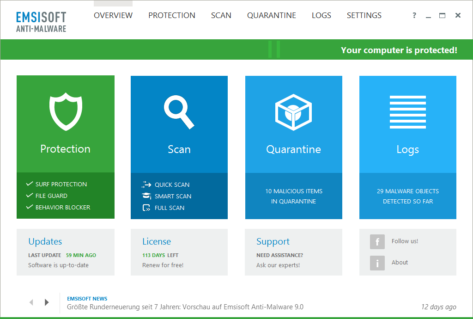 As the founder and CEO of Emsisoft, I'm especially pleased to announce our latest product release today. It has been an exciting year of hard work with a growing team of developers, and we hope that this update will exceed all of your expectations.
With the largest overhaul of the user interface in 7 years, we've produced a modernized and more intuitive version of our leading product that will ensure enhanced performance for years to come. Although the visual changes are most noticeable, Emsisoft Anti-Malware 9 also has several new innovations under its hood, to provide advanced protection against increasingly frequent and complex Internet attacks.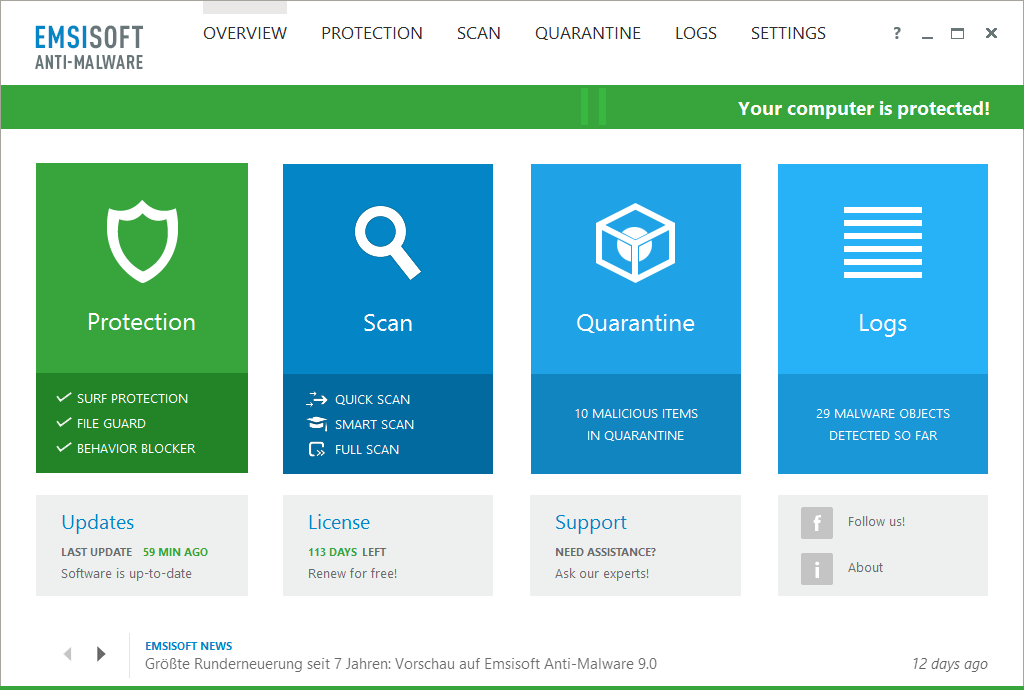 New features in detail
Improved usability: Our primary goal is to provide complete protection against viruses and other malware, with a focus on maximum efficiency in every respect. Emsisoft Anti-Malware 9 is not an overloaded, sluggish suite. It is fast and lean, and focuses on what is most essential: keeping your PC malware free. The completely revised user interface in version 9 reflects this intention and has been optimized for Windows 8. The new design arranges the main functions with corresponding shapes and coloring, making them quickly accessible and easy to understand – especially for first-time users. We believe that anti-malware software has never been easier to use, and yet we also think that Emsisoft Anti-Malware 9 will be highly valued by computer professionals worldwide, for its flexible configuration and advanced capabilities.
Faster scans with better detection: Our dual-scanner strategy has been tried and tested for many years, and it has successfully won countless comparatives and awards from renowned anti-virus test labs like AV-Comparatives and Virus Bulletin (VB100). This malware scanner has been improved in the new version of Emsisoft Anti-Malware as well, so that even the latest threats can be safely and thoroughly removed. Additionally, we have greatly increased scanning speed.
Three-layered real-time protection: This is where Emsisoft has always proven to be ahead of the competition. Layer one is Surf Protection, which blocks browser-independent access to dangerous and fraudulent websites, to prevent you from downloading malware. Layer two is a dual-engine file guard, which automatically scans all new and modified files – including those on newly attached USB data storage devices – using over 12 million signatures. Layer three, Behavior Blocker, is our highlight. Behavior Blocker uses behavioral analysis to detect brand new threats based on derivative behavioral patterns. With version 9, Behavior Blocker's cloud-assisted detection performance has been massively improved, resulting in fewer false positives and the possibility for more accurate malware classification.
Hundreds of detail improvements for a better user experience: It's the simple things in life that bring us joy. That's why we've always listened and responded quickly to our customers. The customer feedback we received during the past year allowed us to incorporate hundreds of improvements into Emsisoft Anti-Malware 9. I'd personally like to thank each and every one of our countless beta testers for their hard work and feedback.
Get your new favorite security software today
Existing users can automatically upgrade Emsisoft Anti-Malware to version 9 via the update function. Alternatively, first time users can use our 30-day trial download to receive a new installation at any time.
Emsisoft Anti-Malware 9 Download
Introductory price of $9.99
Celebrate the release of Emsisoft Anti-Malware 9 with us by ordering the software during the next 9 days for only $9.99 instead of $39.95 (1 year)! This special offer is only valid until June 27, 2014 and is reserved for new customers only.
Purchase Emsisoft Anti-Malware 9
Emsisoft benefits that haven't changed
Malware removal guarantee: Our malware removal experts will always help you clean your system. This service is free of charge and has no obligations.
Emsisoft Technology Guarantee: As always, all customers who already own a valid Emsisoft Anti-Malware license will receive this new version at no cost, through the integrated online update function. No re-installation is necessary. We don't just sell software – we are committed to keeping your PC clean.
Free Trial: It's important to us as a company that you can familiarize yourself with our products and service before making a purchase. If you are new to Emsisoft, you can test our products for 30 days at no cost and without any obligations. If you choose to purchase our software, we also offer a 30-day money-back guarantee, should you not be completely satisfied.
Loyalty Bonus: License renewals after your first year cost 25% less than buying completely new software, and with each additional year that you remain loyal to us, we reduce renewal costs by 5% – up to 60% discount!
System Requirements
Emsisoft Anti-Malware 9.0 runs on virtually any PC and supports Windows XP, Vista, 7, 8 and 8.1. This includes full x64 support from Windows Vista onwards.
Emsisoft Anti-Malware for Server 9.0 is based on the same technology, but is specifically designed to protect Windows Server 2003, 2008 and 2012 (including R2) matched.
Minimum Hardware: 1 GB RAM (ideally 2 GB), 1024×768 screen resolution.
Questions or malware problems?
Please don't hesitate to contact our world-class support team with malware or product-specific questions. If you have questions regarding special licensing requirements, we are usually able to provide quick answers and flexible solutions for your needs.
Screenshots