Emsisoft Malware Information
Name: Virus.Win32.Sality!IK
Description:
Note: There is no detailed description of this malware available. Please refer to the following category description:
Virus
A Virus is a self replicating computer program that infects other programs for the purpose of reproduction. Viruses are usually unable to run on their own; they always require a host program to attach themselves to in order to be started.
When a virus infection occurs, the virus attaches its own program code to other executable files (.EXE). If a host program is executed, the virus is loaded too and can begin replicating or carrying out its destructive routines.
Additional details:
Additional information may be found here:

Search Google for Virus Sality


Search Bing for Virus Sality
How can I protect myself from Virus Sality?
Important!
Essentially you need an antivirus product that is not only able to clean infections, but also protect your PC from new threats in real-time. This is the only way to prevent data loss and avoid the unnecessary hassles and costs associated with re-installations of your operating system.
Don't miss the opportunity to buy the multi-award winning security software Emsisoft Anti-Malware today!
Only $40 for the security of your computer.
Buy Emsisoft Anti-Malware online:

Trust only the best security software!
Best In Test!
AWESOME score in September 2013!
100% in AV-Comparatives "Real-World" Protection Test!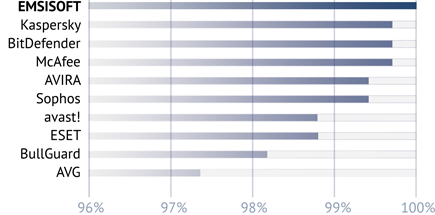 More independent reviews of anti-malware software
---