Emsisoft releases a free decryptor for the infernal LooCipher ransomware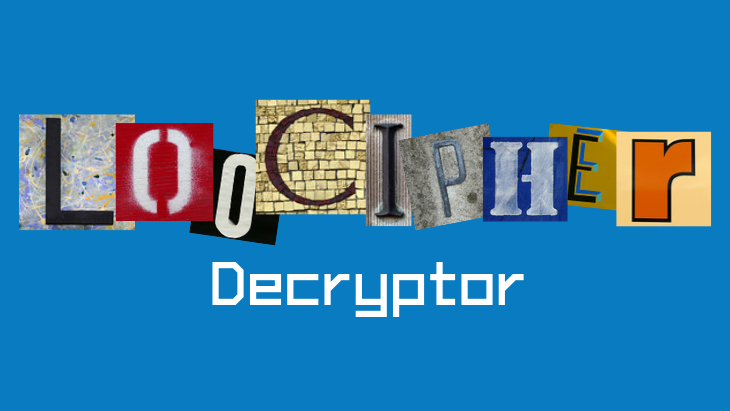 Our malware team just released a decryptor for the LooCipher strain of ransomware. Hellfire awaiting the ransomware's author(s).
If you're a victim of this ransomware, please download the FREE decryptor linked below and DO NOT PAY the ransom. A detailed guide is also included.
Technical details
It is believed that the LooCipher is spread through spam according to BleepingComputer. The ransomware then uses macros-enabled documents to encrypt the victim's files using AES-128 ECB, and adds the extension ".lcphr".
The victim is then instructed to make a BitCoin payment and then use the same malware to decrypt their files once payment is complete. The ransom note that is created — "Please_Read_Me.txt" — contains the following text:
Q: What happened to my files?
A: All your important files (including those on the network disks, USBs, etc.) have been encrypted using a strong algorithm with a private and unique key generated for you.

Q: Where is my key?
A: Your key is stored in our TOR servers in order to preserve the anonymity.

Q: What do I do?
A: You need to make a Bitcoin payment for the decryption.
Please send €300 (~$330) worth of Bitcoin to this address: 1Ps5Vd9dKWuy9FuMDkec9qquCyTLjc2Bxe

Q: Can I recover my files by other means?
A: No. There is not such a computing power nowadays to find this key within the time of a human could live. Even if you use Tianhe-2 (MilkyWay-2), currently the fastest supercomputer in the world, it will take millions of years. Neither NO ONE ANTIVIRUS CAN BRING YOUR FILES BACK, the only thing they could do is delete the decryptor software, but it's impossible they can recover your files, and if some of them is trying to sell you that, we invite you to purchase it and try.

Q: How much time do I have?
A: You have 5 days since your files were encrypted. Specifically until 2019/06/24 14:28. After this period your key will be automatically destroyed (except for the case of having made the transaction within the period but because of the transaction remains pending of being confirmed by the blockchain this time period is excedeed. In this case the key will remain safe throughout all this "pending of being confirmed" status of your transaction and additionally it will remain 7 days more after your transaction is confirmed in order that you have enough time to recover your files)

Q: How can I trust?
A: We strongly guarantee you can recover your files. Besides, if we didn't do it nobody trust us and we wouldn't get any payment. In fact, we built the decryptor in the own encryptor software as well in order to make the decryption process as simple as possible for you, thus avoiding having to download an external decryptor. Just make the payment, click and if your payment is approved the button will become enable to click.

If somehow you closed the decryptor window and you can't run the decryptor software you can download a copy of the decryptor through this link:
https://mega.nz/#!KclRVIRY!YrUgGjvldsoTuNZbCOjebAz5La7hbB41nJHk1mlgqZo
(Don't worry, your files won't be re-encrypted if they already are).

Download now: Emsisoft Anti-Malware free trial.

Antivirus software from the world's leading ransomware experts. Get your free trial today.

Try It Now

Copy of ransom note courtesy of BleepingComputer